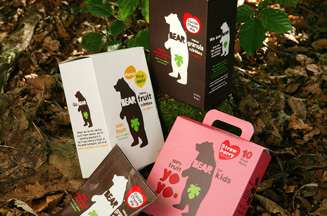 Bear, which rolls out across the independent trade and certain wholesalers next month, consists of three ranges that are made from either 100% fruit, or 100% fruit and whole grains.
Helm, who was previously marketing director at Innocent, left in June 2008 to set up a brand consultancy. Brook departed the smoothie company earlier this year, where he had held the position as commercial director.
Bear has been set up as an independent company alongside Urban Fresh Fruit founders Hayley and Andrew Gait Golding. The range is made up of Fruit Nibbles, Granola Nibbles and Fruit Yo-Yo's, which is a 100% fruit product for children, where fruit has been baked and then rolled.
The company is looking to have a major roll out in January when there is extra emphasis on healthy consumption, following the Christmas period.
Marketing activity at first will focus on in-store sampling and POS, as well as digital activity. The brand is also planning to run ongoing experiential activities called 'Go Bear'. The events will run both regionally and on a national level.
Each product currently consists of two variants which are 100% natural, containing no sulphites or mixing agents. They are also all under 100 calories. Helm, a founding director at Bear said that the brand would be looking at above-the-line activity after the roll-out in January. He also added that the company would be looking to extend the variants in the future.