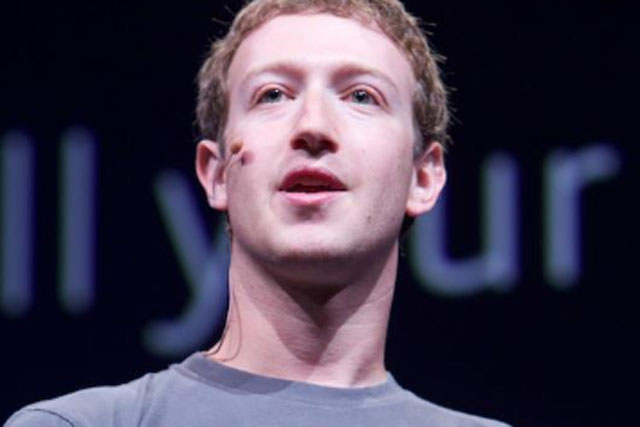 The eight-year-old social networking company made revenues of $1.18bn (£723m) in the three months ended 30 June, 84% of which is from advertising, at $992m.
While ad revenues for the quarter were up 28% year on year growth has decelerated from the previous year, when ad revenues in the second quarter of 2011 grew 83% from 2010 to reach $776m.
Ad revenues were up 14% from the first quarter, having dropped from $943m in the fourth quarter of 2011 to $872m in the first quarter of 2011.
Facebook previously attributed this potential slowdown to the number of its users moving to mobile, which it has only recently started monetising.
Zuckerberg said on a conference call that Facebook has a clear path for building a strong mobile business, having recently started selling Sponsored Story mobile ads separately from other ad formats.
Facebook, which has been dogged by concerns about the return on investment its advertising delivers, said it now has data from more than 60 ad campaigns, 70% of which resulted in a return of ad spend of three times or better, while 49% of them showed a return on spend of five times or more.
Facebook revealed that revenues in Europe were $346m, up 25% year on year, but down from the $361m revenue it generated for the region in the fourth quarter of 2011. It did not break out ad revenue for Europe or the UK.
Overall, the company made reported a second-quarter loss of $157m after it boosted its spend on sales and marketing and research and development (R&D) and made payouts to shareholders.
Second quarter expenses nearly quadrupled, up 295% to $1.93bn from the same period last year.
Spending on sales and marketing was more than four times higher for the quarter at $392m, compared to last year, while R&D costs rocketed 610% to $705m.
Its operating profit margin fell to 43% in the period compared with 53% a year earlier.
The company revealed that monthly active users were 955 million as of June 30, up 29% year on year, while daily active users were 552m, up 32%.
The largest growth in users was in mobile, at 543 million monthly active users, which is up 67% compared to a year ago.
Prior to announcing its quarterly results yesterday, Facebook saw its share price hit after Zynga, the social games company behind Farmville and Mafia Wars, blamed its disappointing financial results on Facebook favouring other games makers.
Shares tumbled to a third below their $38 float price, falling below $24 in after hours trading.
Follow @shearmans