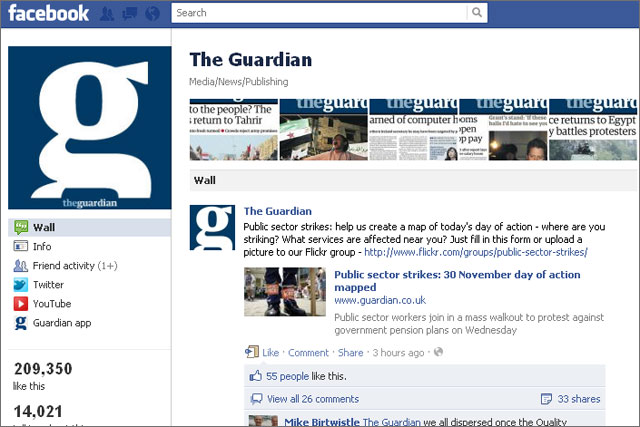 The two newspaper sites, which remain free to access in the UK, are among the media partners to benefit from Facebook's Open Graph developments, designed to provide social plug-ins to content outside of the social network beyond its "like" button.
The Guardian app has reached more than four million users since it launched two months ago and has been generating almost a million extra page impressions per day.
The app enables Facebook users to broadcast the articles they read to their Facebook timelines and allows easy sharing with friends.
Andrew Miller, chief executive of Guardian Media Group, said he was "delighted" with the early findings, and suggested the app was introducing entirely new audiences to the brand.
He said: "As well as increasing traffic, the app is making our journalism visible to new audiences. Over half of the app's users are 24 and under – traditionally a very hard-to-reach demographic for news organisations."
Figures shown to Media Week also highlight that more than half (54%) of The Guardian's Facebook traffic comes from outside the UK, and 13% of app users came from the US, where the brand is trying to gain traction.
Miller added: "The Facebook app is one of a number of successful launches by the Guardian in recent months as our digital-first strategy gains momentum."
Elsewhere, more than one million monthly active users have connected to the Independent's site via its new Recently Read app on Facebook.
The integration, which also coincides with The Independent site under going a revamp at the end of October, is said to have bumped up older articles that have gone viral through social distribution.
The organisation found that many of its "most shared" and "most viewed" stories on the site have been from the late 1990s, as a result of the increased social virality.
Readers who select the Recently Read Facebook application, for any article on The Independent site, can post the paper's stories onto Facebook for their friends to discover and interact with in real time.
Users of The Independent's app can also select which articles become part of their profile directly from the application, or from Facebook.
News in the social age
The early impact of the newspaper apps developed for the world's largest social media network will have caught the attention of rivals.

News International is severely hampered by what it can achieve in the social space with its paywalls around The Times and Sunday Times, similarly The Financial Times is restricted by its metered model.

However, the UK's biggest newspaper site, Mail Online, is open to all but has yet to develop an app using Facebook's Open Graph. James Bromley, managing director of Mail Online, remains open to future possibilities.

He told Media Week: "These are certainly interesting figures. It is worth investigating the difference between people using your own website as a destination, and those using a social media app."

However, the Daily Mail's digital leader - who oversaw record unique users of 78,994,874 last month, did not rule out designing an app for Facebook's social timeline in the future. He said: "We do a lot of work with Facebook and we will continue to do a lot more work with them in the future."

Other media partners to have benefitted from Facebook apps since September include the Washington Post, which built a Social Reader app as a companion for its website. It is reported to have attracted more than 3.5 million monthly active users to date.

The Social Reader is highlighted for boosting the Post's international audiences and younger readers, with 83% of readers under 35 years old.

Elsewhere, Yahoo! News' app has reported more than 10 million people using it to share and discover news from friends.

Yahoo! News app has resulted in a 600% increase in traffic being referred from Facebook, and the people connecting to Facebook on Yahoo! are reported to read more articles than the average user.
Austin Haugen, product manager at Facebook, said: "With the Open Graph, publishers can build a new kind of news app that makes it easy for people to discover what their friends are reading, and look back at top articles over time…
"The early results from social news partners are encouraging, once again showing that news sites that focus on building social and personalised news experiences will see the most dramatic increases in traffic and engagement."
Yesterday, The Huffington Post became the latest media partner to launch an Open Graph-enabled app on Facebook.
Follow Arif Durrani on Twitter @DurraniMix