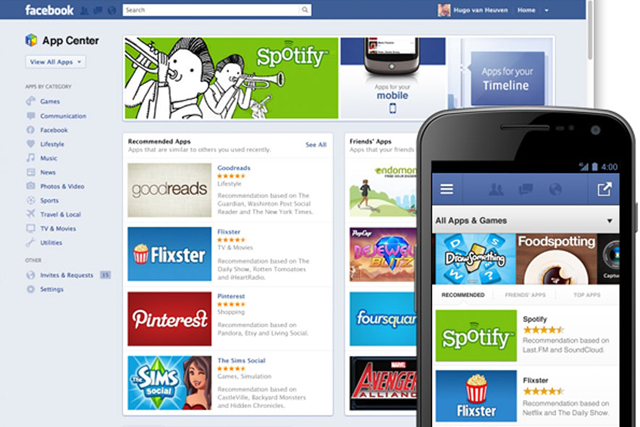 The 'App Centre' aims to showcase 'the best social apps' from across the web, such as Pinterest, Spotify and Draw Something.
It will also allow developers to charge for Facebook apps for the first time.
Consumers will need to use Facebook Credits to purchase the apps, meaning Facebook takes a 30% cut of revenue, as it does with in-app purchases, according to reports.

Writing on the company's developers' blog Aaron Brady, a Facebook engineer, said: "Many developers have been successful with in-app purchases, but to support more types of apps on Facebook.com, we will give developers the option to offer paid apps."

The store will roll out in the next few weeks and will be accessible via Facebook.com and mobile devices. Facebook is encouraging developers to start building their apps and app pages, where their app is listed straightaway.

According to Reuters, 200 of the Facebook apps already available have more than one million users. Facebook has a total of 900m users.

Facebook makes the majority of its revenues from advertising - a business model which has caused uncertainty among investors in the lead up to its IPO, especially after the social network recently saw its first quarter-on-quarter revenue drop in two years.

The app store announcement comes at the same time that Facebook, in an amended prospectus, filed with the Securities and Exchange Commission yesterday, listed mobile as a risk factor.

"Growth in use of Facebook through our mobile products, where our ability to monetize is unproven, as a substitute for use on personal computers, may negatively affect our revenue and financial results," the filing said.

Facebook kicked off its investors' roadshow this week ahead of the IPO, which is expected to value the company at between $77bn to $96bn.
Follow Sarah Shearman on Twitter @Shearmans