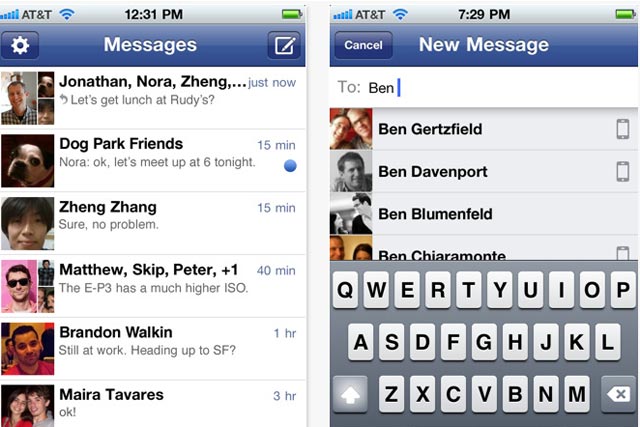 The Messenger app, which launched in the US yesterday, allows users to access their Facebook account and message their friends in what Facebook claims is a "simpler and faster" way.
It integrates Facebook's "social inbox" service Messages, which launched in the US in November last year and aggregates a user's chat, email and texts into a single, continuous thread.
Users can send messages to friends or contacts in their phonebook in either a text or notification form. Photos and locations can also be added to messages.
It is available for Apple's iOS and Google's Android platforms, in contrast to the platform-specific BlackBerry Messenger and Apple iMessage. There are no indications when it will launch in the UK.
The new app also rivals Google's recently launched Google+ app, which has social chat features.
Lucy Zhang, Facebook engineer, said in a blog post yesterday: "More and more of us rely on our phones to send and receive messages. But it isn't always easy to know the best way to reach someone on their phone.
"We think messaging should be easier than that. You should be able to write a message, click 'Send' and know that you will reach the person right away."
Messenger does not enable video chat, which is a feature Facebook launched in partnership with Skype last month.
However, CNET reports that Facebook chief executive Mark Zuckerberg has said the two companies would immediately begin working on bringing the feature to the app.
This week, Research In Motion's BlackBerry Messenger service has been blamed for facilitating rioting in the UK, with the company offering to help the police with investigations.