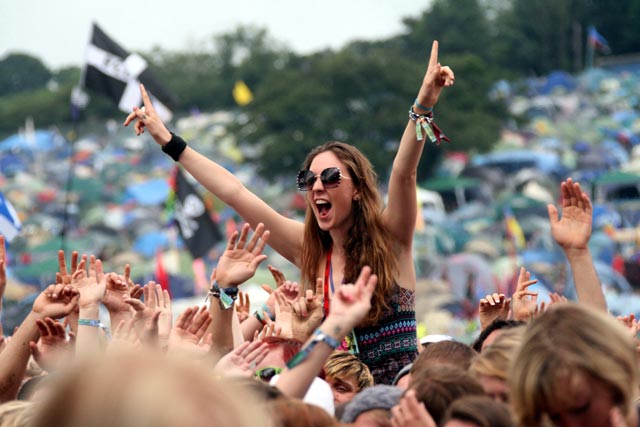 This week the focus may be all about Glastonbury, but the variety and volume of the festivals we're now able to attend is vast.
In the next month, you can choose to see The Killers at Hard Rock Calling; Tricky at Blissfields; Status Quo at Cornbury; Morrissey at the Hop Farm; Slayer at Sonisphere; The Magic Numbers at Chagstock, and The Damned at Wickerman.
Even Jamie Oliver has got in on the act with his Big Feastival, as apparently "Cooking is the new rock-and-roll".
In 2010, more than 700 festivals took place in the UK, with the bulk of these located in the South West.
The most popular month for a festival is July, with 200 taking place, closely followed by August, with 150.
Festival ticket sales alone generated £1.7bn in 2010, a 5.2% increase from 2009, in what was a tough year for the economy. (Source: Mintel)
The audience


Festival-goers are a young, affluent market, and typically a harder-to-reach group for advertisers.
Festival-goers' average annual salary in comparison to the national average salary
(Based on festival-goers defined as "those attending any music festival in past 12 months")
Source: GB TGI
Age distribution (GB TGI Q4 2010)

(Based on festival-goers defined as those attending any music festival in past 12 months")
Source: GB TGI
Media consumption


Research conducted this month by YouGov for the Outdoor Media Centre confirms the positive approval of the general public, and especially young people, to poster advertising.
(Click images to enlarge)

Our own Generation Media research, conducted by Youth Conspiracy, reveals that: "The youth market can't imagine a world without outdoor media – it is their world.
"Outdoor media is arguably the only form of advertising which actually entertains the youth market rather than interrupting their entertainment."
Looking at festival-goers in particular, IPA TouchPoints shows that out-of-home is their preferred medium, closely followed by the internet and then radio.
Festival-goers' consumption of media as a percentage

Source: IPA TouchPoints

Advertisers seeking to target festival-goers, without committing to sponsorship of a particular festival, can capitalise on the general festival-fever vibe that captures Britain's younger society during the summer, through OOH advertising.
They can plot campaigns along routes that become congested around the festival venues, achieving fantastic dwell time, while also being the first and last association with that festival, as people journey to and from the venues.
They can also target FMCG/CTNs around venues where festival-goers will descend to obtain their supplies.
Essential provisions


It's not just media that the hardy festival-goer is consuming – the average outlay on provisions bought prior to music festivals by attendees was £83 in 2010 (BBC).
Seventy-five percent of festival attendees purchased FMCG products prior to an event, with crisps, soft drinks and sealed foods being the most popular goods (Telegraph, 2010).
Looking at Glastonbury in particular, through off-site spending – petrol, snacks, camping supplies, alcohol, hotel accommodation and meals – Glastonbury made £21.2m for the local trade, 1/7 of the total made by the region over the entire year (Glastonbury, 2010).
In 2010, Blacks Leisure claimed that 5% of its revenue from camping goods came from people going to Glastonbury (includes 10,000 wellies being sold). (Guardian, 2010).
Festival chic


According to research conducted by LoveBox in 2010, 23% of respondents stated that looking good at a music festival was one of the most important things to them.
Thirty-three percent of female attendees spent an average of £220 on their festival outfits, in comparison to 15% of male attendees spending £143.
Retro attire is particularly popular with festival-goers – vintage clothes, T-shirts and trainers were bought by 42% of festival attendees last year (Various - Marie Clare, Vogue 2010)
Asos recorded a 36% sales increase in maxi-dresses, shorts and wellington boots in the run-up to the festival season in 2010, as festival-goers planned their outfits – for all weather conditions. (Guardian, 2010).
In fact, two of the most popular festival accessories are sunglasses and wellington boots, the essentials for all-weather festival attire.
Over the past five years, 14.8% of wellington boot sales in the UK were made during the summer months of May to August, which is the key festival period (Guardian, 2010), and across the festival circuit last year, close to one million pairs of sunglasses were worn.
The average festival attendee brought at least two pairs of sunglasses along, just in case (Guardian, 2010).
The artists


But we mustn't forget that it's all about the music. In 2008, MGMT saw sales of its album 'Oracular Spectacular' increase by nearly 200% at HMV in the wake of the festival (Guardian, 2008).
Vampire Weekend made the HMV top 10 list with a near 50% uplift in sales of their self-titled debut album (Guardian, 2008). Duffy saw sales of her 'Rockferry' album rise by 163% (Guardian, 2008)
Sales of music-themed video games such as Singstar also recorded 11% sales uplifts post-festivals in 2010 (various, BBC, HMV, 2010).
And with Jay-Z's 'The Black Album' increasing sales nearly five-fold after his much-debated, but ultimately triumphant appearance at Glastonbury in 2008 (Guardian, 2008), his wife Beyonce's appearance has been perfectly timed this weekend with the imminent release of her new album.
Clementine Marcel and David Akeredolu, campaign planners at Clear Channel UK