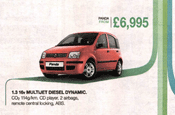 The two ads, by Krow Communications, lauded Fiat's green credentials, and showed four different models of car, each with a model name and a price.

In a ruling today, the Advertising Standards Authority said the prices reflected the lowest-priced cars in the ranges, rather than those for the greenest cars.

It said: "We acknowledged that the headline prices were preceded by the word 'from' and that the actual prices of the models featured were given in small-print at the bottom of the ad.

"However, we also noted the CAP Code stated explicitly that prices quoted in motoring ads should correspond to the vehicles illustrated, and that it was not acceptable to feature a more expensive model alongside the starting price for that range."

Fiat has promised not to run the ads again in their current form.