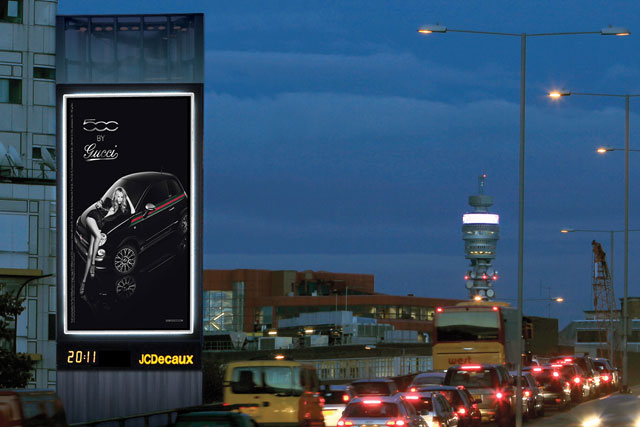 The Marylebone Tower is the only outdoor site to be used for a wider campaign, booked by WPP agencies Maxus and Kinetic, using press titles such as Vogue, Harpers, Elle, and Esquire, and the websites of GQ, Vogue and Marie Claire.
The ad, adapted by Krow, shows a sultry model draped over the car. The car is available in black with glitter, or white with glitter, and can be bought online or from selected dealerships.
Elena Bernardelli, marketing director at Fiat Group Automobiles UK, said: "The Marylebone Tower was the perfect choice for the Fiat 500byGucci launch as it is a new, premium site in central London, which is a must for our media schedule."
The large portrait outdoor site is lit around the edges for maximum impact. A spokesman for JCDecaux said it would deliver a million impacts every two weeks, according to the Department of Transport.
Spencer Berwin, JCDecaux's managing director, sales, said: "We are delighted to have Fiat as our launch advertiser on the Marylebone Tower – a site that is ideal for premium brands wanting to reach an affluent audience.

"The Marylebone Tower is an exceptional site – it was booked for the Olympic period before it was even built, it's in the West End, a mile from Oxford Street and is the most central advertising tower in the capital."