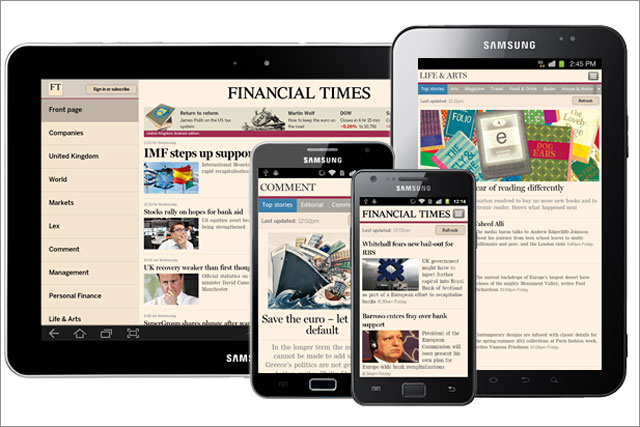 The app is available to download for free from the Android market, although users can only access the publisher's content with an FT.com subscription.
The publisher is able to sell subscriptions directly through the app, without giving Google a cut.
It launched yesterday with an ad campaign from Samsung promoting the technology brand's new Galaxy Note handset.
The app is built with a hybrid of HTML5 and Android native technology.
In June this year, the FT launched a web-based app, built with HTML5, and began encouraging users to use it as an alternative to its iOS app.
Its iOS app came off the iTunes store three months later. It was understood this was because it was unwilling to meet Apple's requirements to retain subscriber data and a 30% cut of subscriptions sold through the app store.
It is still using iOS for ad-funded free apps, like its recent 'How to Spend It' iPad app.
The FT claims the web app has over one million registered users since it launched nearly six months ago.
Mobile now drives 15% of new FT subscriptions and 20% of traffic to FT.com.
Follow Sarah Shearman on Twitter @Shearmans