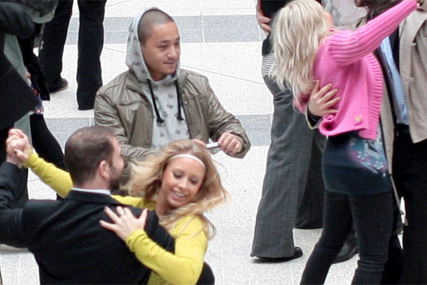 The clip of Karim on his day off at San Diego Zoo now sits among millions of videos on the website, now one of the largest in the world, YouTube.
The site co-founded by former PayPal colleagues Karim, Chad Hurely and Steve Chen now attracts 17.1 million users a month in the UK alone and accounts for 43% of the video-on-demand market, according to UKOM.
It was no surprise when it was snapped less than two years after launch by internet heavyweight Google for $1.65bn. Its had already become a phenomenon and Google shows no signs of regret over the hefty price tag despite the site still struggling to pay its way.
In recognition of Karim's seminal moment, Brand Republic highlights five ways in which YouTube has impacted the media world:
1. The ad spoof
Though not the first, this has certainly become one of the most memorable. When Cadbury launched its Glass Half Full productions ads in 2007, the 90-second Gorilla TV spot became an online sensation. Having broken on TV during Big Brother, with further pushes in print, the ad took on a life of its own online, once it had been uploaded and "customised" by fans on YouTube.
The multi-award winning ad created by Fallon received 500,000 pages views in the first week after the launch and has since gone on to become one of the most popular ads off all time having reached Canada, Australia and South Africa.
It's been the YouTube spoofs, from the Eastenders to Nirvana mashups, that have showed just what affect the combination of cheap editing software, a viable video platform and the creative minds of its viewers can achieve
2. Changing TV
Susan Boyle may not have won ITV's hit show Britain's Got Talent but she did celebrate being named YouTube's most watched video of 2009.
YouTube has plucked many unwitting members of the public and made them global stars but 'The Susan Boyle Effect' meant a great deal more combining , with the power of YouTube and TV combined seen to no better effect. Her videos have racked up millions of views with one video having been viewed more than 40 million times.
As Subo became a global hit, appearing on US talk shows while still competing in the ITV talent competition, ratings shot up and her success paved the way for a new kind of deal between the UK broadcaster and US video platform.
ITV was rumoured to have lost up to £150m in missed advertising opportunities on YouTube. Not something a UK broadcaster is likely to see happening again.
Rupert Howell, managing director of brand and commercial operations at ITV said he was "delighted" with the revenue-sharing deal the broadcaster landed with YouTube following Susan Boyle's appearance on the programme.
YouTube has continued to move into TV's traditional long-form territory, the current airing of 60 live cricket matches from the Indian Premier League being one example of its ambition.
Who would bet against Chad Hurley's forecast that over the next five years the website will grab a significant chunk of the TV viewing public's time.
3. Reaching the youth market
Mainstream politics reached the untapped youth market through YouTube big time after Barrack Obama launched a channel on YouTube in the run up to the US Presidential election in 2008. He was also the first US president to conduct an interview on YouTube after he won the race to the White House.
His appearance has prompted fellow UK politicians to go into PR overdrive to use the site to win over the public. Prime Minister Gordon Brown tried to appease the British Public last year over the MPs expense scandal. However, his appearance turned into an embarrassing PR exercise after he failed to win the public over due to his lack of empathy.
WebCameron has catalogued the movements and thoughts of the Tory leader more successfully than GB, and its successor, WebSamCam, tracking Dave's wife during the election campaign is proving just as popular, at least in media circles.
4. Flash mobs
What's the point of a flash mob if no-one sees it? Giving a platform to random gatherings has had a major impact on adland, and with no-one more so thatn T-Mobile.
The mobile operator understood the power of YouTube when it launched a channel for users to upload its 'Dance' ad.
Its flash mob ad created by Saatchi & Saatchi's showed 350 dancers performing routines as commuters passed through the concourse of London's Liverpool Street station.
The T-Mobile area has since attracted more than 17.6 million views and was said to be "instrumental" in mobilising 14,000 people to star in the mobile brand's next ad, which was shot in Trafalgar Square at the end of last year.
5. The media cash cow
Ok, maybe not. YouTube is still, as Rupert Murdoch recently described rival social media site MySpace just before the chief executive started looking for new opportunities, 'not where we want it to be'.
The site introduced 20 second clips of advertising into its videos for the first time in 2007. Twenty advertisers, including BMW, the car group, and MGM, the film studio, were tested partners. The advertising which rolled out in the US first saw YouTube charge about $20 per 1,000 views.
The company has since played around with all manner of ads and also signed numerous revenue sharing deals with rights owners, predominantly as it introduces more long-form content into its offering.
While Google might take a more relaxed view of YouTube's lack of profit, its deep pockets allowing it to take a slightly longer term view than even the hugely successful News Corp, its inability to turn a pound note is clearly starting to grate.
Break-even is the aim for this year. And though it might seem like a nightmarish hark back to the pre-dotcom bubble days of the late 90s for a company to be worth billions and still reside in its "pre-profit" stage, YouTube could yet be the kind of hugely profitable business its parent company have predicted.