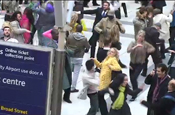 According to reports, more than 13,000 people congregated on the station concourse for a silent disco at 7pm last Friday, organised through the social networking site Facebook.

The flashmob prompted police to close the station for fears of overcrowding, and some arrests were made for public order offences.

People had travelled from all around the country to be part of the event, and the concourse was so congested that there was very little room for participants to dance.

Some climbed on top of ticket office machines and notice boards to perform their routines, while one man stripped naked on a raised platform to cheers from the other dancers.