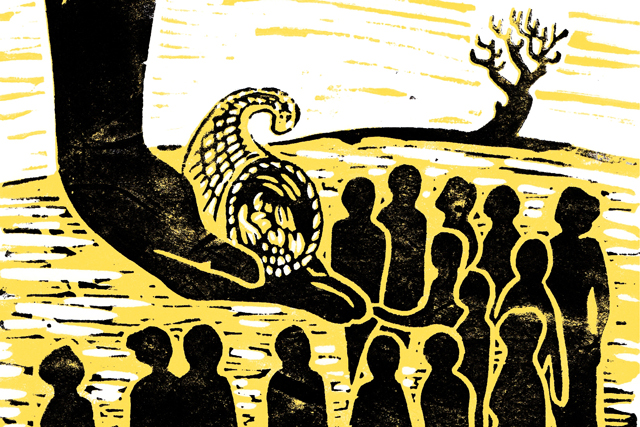 Anyone interested in challengers is interested in compression: how do you make a story utterly compelling in a very short space of time?
And one of the reasons that the concept of the 'challenger brand' has caught on, you might argue, is that it itself does just that: within just two words you surely have all the ingredients of an engaging story - conflict, a protagonist and an adversary, an anticipation of a future event whose outcome is uncertain, the new order against the establishment. It's all there.
Except that it isn't. Not really. Because for all that people talk more than they ever did about challenger brands (6,860,000 hits in 0.11 seconds on Google this morning), all too often it is the clichéd and superficial view of what a challenger narrative actually is that persists: either 'little brand explicitly calling out big brand' (think Avis or Ryanair) or 'turn every category rule on its head' (think the young Red Bull or Grameen Bank).
But if we look at a new generation of challengers from the last ten years, do they really all fall into one of those two different approaches?
A new generation, spanning South Africa to Uruguay to the US, from automotive to betting to beer to tech, with marketing spends ranging from millions of dollars to nothing at all - would they all really be about just one of these two narratives?
Grouping all the different challengers from the last ten years we found the ten most common challenger stories and identified what (not whom) they were challenging, how they were doing it and the communications implications for each.
The result is captured in our book 'Overthrow: 10 Ways to tell a challenger story', which takes learnings from this new challenger generation and puts on the table a more evolved model of what it means to be a challenger.
Here's a snapshot of the model which can be used as a practical framework for those that want or need to challenge something about their category to succeed.
Whether entering a crowded category or maintaining challenger momentum once it starts to fade, brands can structure their communication approaches in a way that drives breakthrough.
The Irreverent Maverick

This stance could be described as 'counterculture attitude in a box'; think Red Bull, Paddy Power, Nando's, Hell Pizza or Brewdog.
The Irreverent Maverick uses wit, humour and sometimes shock tactics to puncture the status quo and attract a very particular audience to their brand.
Media behaviour: Need to be very tactical and responsive to potential opportunities. Therefore a large percentage of the marketing budget should be used for tactical campaigns.
Also invest in the creation of owned assets (viral content pieces, etc) in order to generate earned impressions. Crucially, take risks. Build PR and legal expertise into the team.
The Missionary

The Missionary is here to put something right in a category they think has got its philosophy all wrong.
They want to use their product, service and brand experience to convert the category consumer to a better way of thinking and being. Think of Al-Jazeera looking to 'redress the balance' in media coverage of the Middle East.
Media behaviour: Crystallise and graphically represent the key message and then broadcast in environments that allow for longer-form message delivery.
Be a zealot. Be restless. Constantly refresh creative around key themes (but keeping core message consistent). Build in communication within grass-roots channels that operate within local communities.
The Next Generation

The Next Generation challenger is challenging the appropriateness of the market leader for the new times we live in.
It can be an elegant way to deposition a number one brand, positioning the incumbent as certainly perfect for a time gone by, while now being clear that the world has moved on, and so should our choice of brand.
That was then, ladies and gentlemen, but this is now. Audi has done this brilliantly in the US in recent years.
Media behaviour: Deep integration of advertising, social and PR is essential - the marketing must feel more than just advertising - it must feel culturally relevant.
To create a sense that this is a new epoch. Seek to invoke the herd mentality in order to make people believe that 'everyone is moving on'. Communicate the number of people switching or what they are saying - have a real-time component so it feels very now and relevant.
The Democratiser

The Democratiser does not believe in taking from the rich and giving to the poor, but rather taking from the few and giving to the many - opening up the beauty of great design, or the latest catwalk clothing or the ability to become a broadcaster or news editor, and making it available to everyone.
Challenging elitism and privilege. Think the new generation of 'value' brands and retailers.
Media behaviour: Be the interpreter for the masses - unveil, educate and elucidate within branded content and owned channels.
Focus on the influencers within the category and bring them on board as experts to help you take the high ground in consumer's minds.
The Real and Human Challenger

One of the qualities that many challengers share is the ability to give a sense of the people behind their brand.
These brands appeal to us at a more personal level than the market leader because they are making a human to human connection, rather than a brand to consumer connection, and as a result these brands become not just products or services but compelling characters in our lives.
Challenge the facelessness of the category. Think innocent in the UK, or Sam Adams in the US.
Media behaviour: Communicate your 'most important assets' (your people) via owned channels to catalyse the sense that this company is about people, but do it authentically.
Start from the inside. Give them a rallying call and then get them empowered via social media to engage with people. Seek to surprise and delight - and then tell the world about it.
The Enlightened Zagger

The Enlightened Zagger is deliberately swimming against a prevailing current not in the category, but in the culture.
Think of Camper shoes exhorting the world to walk, not run. They challenge conventional wisdom (rather than the status quo) around the way we live: I know the world buys into this as an acceptable way to live, they say, but I am calling it out for the BS it really is.
Media behaviour: Look to create a differentiated stance by using different communication tone and channels to that of the competitors.
Go against the grip of the category. Consider less fashionable techniques as a way of implicitly communicating a difference and make a virtue out of it.
The Visionary

The Visionary is challenging the mundanity of the way the category currently thinks about itself and what it offers.
You are all being too functional, too prosaic in your thinking, the Visionary says - the real opportunity here for the consumer and our brand comes from delivering a much, much higher order benefit; doing something big, bold and beautiful.
Media behaviour: Establish and make manifest the higher purpose of the company or brand. Generate a groundswell internally, encouraging people to shape the vision and socialise.
Create an inspirational leader or leadership vision. Weave in an emotional dimension. Reinforce this for them by communicating to the world.
The Game Changer

The challenger brand that sets out to become a Game Changer goes much further than positioning: it offers an experience that is fundamentally unlike any we have experienced in the category so far. And, in doing so, redefines what we thought were the boundaries of the category.
Look at the new generation of technology brands taking on the incumbent financial service companies, for example.
Media behaviour: Build communication with opinion formers to allow for the optimal flow of information. Celebrate the technology - with high production value (and, if needed, high CPM) digital and real-world experiences.
Celebrate the products/services as major events. Also consider celebrating the designers - make them famous through social channels and conferencing.
The People's Champion

The People's Champion makes a very specific claim - that it is standing up for the consumer, who to date has simply been cynically exploited by the big players dominating this category.
It is not challenging the market leader and its practices for itself, but for the people: if it wins, they win. For years, this was Virgin's default narrative for every category it entered.
Media behaviour: Explore possibilities of having a spokesperson (founder/CEO is ideal).
Focus on creating campaigns that are also news stories - creative and PR integration is essential. Use social to unite people behind causes.
The Feisty Underdog

The Feisty Underdog presents themselves as locked in a binary battle we all can recognise: Small v Big,Good v Evil, Us v Them.
If you choose this stance and call out the competition as Goliath, then belief, chutzpah and resilience are everything, as is the absolute authenticity of your own position as David.
Media behaviour: Compare and challenge through broadcast and experiential channels - allow for audience to be a jury.
Keep a tactical budget for quick turnaround 'exposing' of challengers short-comings. Be relentless with new messages around tactical opportunities.
----------------------------------------------------------------------------------------------------
Underpinning all of these is the recognition that a challenger needs to keep moving to stay the same: what made it fresh and engaging is not what keeps it fresh and engaging.
As it succeeds in achieving one goal, or overcoming (really or apparently) one struggle, it evolves its narrative, and public ambition, and moves onto the next.
This in turn helps with the other key requirement for a challenger, both in terms of internal culture and external relationships: namely to be never seen to win.
Being a challenger is, after all, about a state of mind, not a state of market. A state of mind committed to perpetually overthrowing the order of the category in an unreasonably short space of time, for a maximum return on energy and investment.