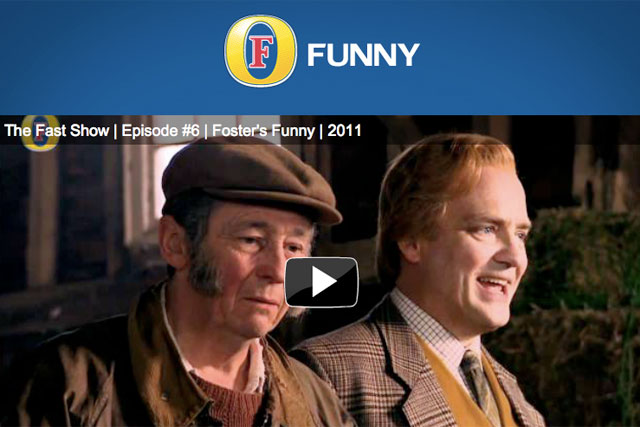 The Foster's Funny Facebook app, created by Lean Mean Fighting Machine and launched today (8 February), enables users to watch video content of episodes, clips, trailers and outtakes.
Videos are served via the Foster's Funny Facebook app page and friends' news feeds, which the user can then click on to watch themselves.
The app launches in time for the start of the second internet series of 'The Fast Show'. It will also serve the appetising back catalogue of more than 40 episodes of previous Foster's Funny content, including 'Vic and Bob's Afternoon Delights' and deleted scenes from 'Alan Partridge's Mid-Morning Matters'.
This move marks another stage in the beer brand's close relationship with comedy, which has been gathering momentum for the past few years.
The media app will drive organic reach and further cement Foster's Funny platform among its core audience and capitalising on Facebook's UK reach of 30 million users.
Niall McKee, brand manager for Foster's at Heineken in the UK, said: "Foster's is currently developing some of the most premium, online exclusive comedy content, from the new Alan Partridge to 'The Fast Show', and the Facebook media app offers our consumers a new and exciting way to watch and share the content through one of their biggest online touch points."