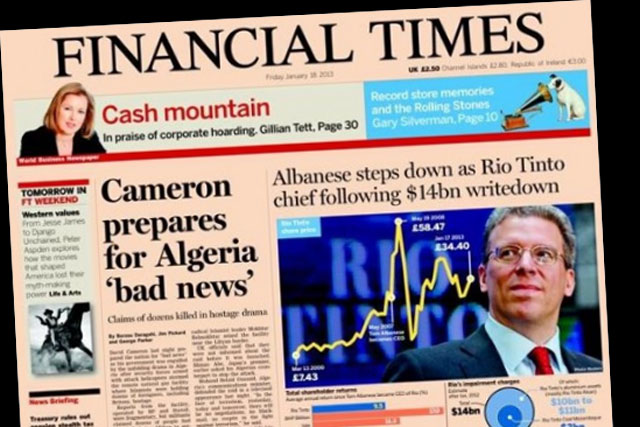 The paper said banks including Nomura and Bank of America Merrill Lynch are involved.
The latest talk of a sale comes despite recent denials by FT owner Pearson, which has been fighting off sell-off talk since it was announced in October that Marjorie Scardino, chief executive of Pearson, was to leave at the end of 2012. She has been replaced by John Fallon, chief executive of Pearson's international education division.
In November, Pearson issued a strong denial following a Bloomberg report that claimed it was considering a sale of its flagship newspaper. Bloomberg reported a sale of the FT was on the cards to allow Pearson to focus on its fast-growing education business in a post-Scardino world.
The Telegraph also reports that some of the banks involved are also offering Pearson's 50% share in The Economist magazine, for around £225m, as well as its acquisitions database Mergermarket, as part of any deal, with a price tag of £250m.
Bloomberg, the parent company of Bloomberg News, is seen as one of the potential buyers of the FT, along with Thomson Reuters and possibly even News Corporation, which already owns the rival Wall Street Journal.
The £1bn price tag is the equivalent of 37 times the FT's projected earnings before interest, taxation and depreciation, and is considerably higher than many thought the paper might attract.
Pearson has again denied there is a sale on the cards despite the Telegraph's claims from Credit Suisse, which told the paper that Pearson had tasked them informally to seek out potential deals. The media company denied this was the case.
In response to the report, Pearson said: "We have said many times that the FT is a valued and valuable part of Pearson. We are not in the habit of responding to rumours, speculation or reports about our portfolio. However, this particular Bloomberg story is wrong."
There could also be bids from parties who want the Financial Times as a trophy asset, despite its falling circulation.
The newspaper is part of the FT Group division of Pearson, which also owns 50% of The Economist magazine. The group reported a 27% leap in profits to £76m last year.
One source said the Financial Times was valued at around £500m in the market. Other reports value the title at almost double that. Another source told Media Week that Pearson would look at offers for the newspaper.
The FT has long been subject to rumour that it could be up for sale, despite strong protestations from Scardino, who said the title would be sold "over my dead body."
Earlier this month, the FT, which announced its digital subscriptions had surpassed its print circulation for the first time in August last year, had the strongest month-on-month performance, with an average circulation of 286,401, up 1.6%, according to the latest Audit Bureau of Circulations (ABC) figures.
Follow @GordonMacMillan