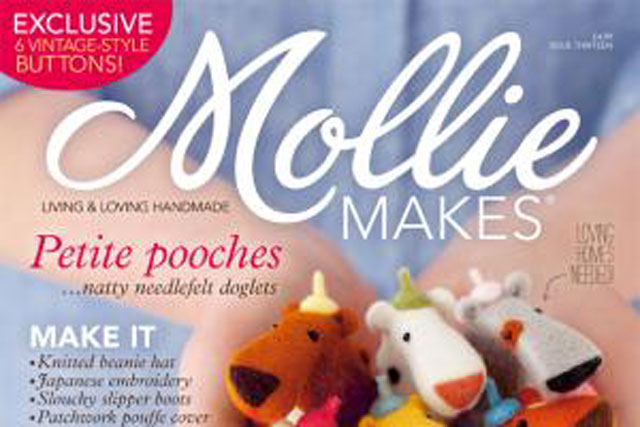 Future today (22 May) also disclosed that it has sold off two non-core titles, Trucking and Truckstop News, to Kelsey Publishing. Kelsey previously purchased niche titles such as Ships Monthly from IPC Media.
The disposal comes as the group reports a pre-tax loss of £700,000, compared to pre-tax profits of £1.2m the previous year.
Mollie Makes, a monthly title, launched last year and has a circulation of around 15,000, although the magazine has yet to be ABC-audited.
The follow-up title, as yet unnamed, is slated to launch in the autumn according to Wood, who deemed Mollie Makes "a success" which had "tapped into the zeitgeist".
Wood also spoke to Media Week about Future's digital credentials, pointing out that the group's digital revenues were up 37% on the year, while digital advertising now made up 44% of total advertising.
Its digital credentials are clear to see, but this comes amid swingeing costs cuts, which have accounted for 200 job losses in the US and UK.
Digital revenues, according to the financials, while growing, are for the moment dwarfed by printed revenues, at £9.6m compared to £45.1m.
One noteworthy fact, according to Wood, is that sales of Future's titles on the iPad have now passed the £3m mark since the launch of Apple's Newsstand in October last year.
Future, which had 50 titles available at Apple Newsstand at launch, now has 73 titles available.
Wood said: "Future is seizing the opportunities offered by the new platforms and channels to reach new audiences and grow a global digital business. On Apple's iPad, Future is one of the world's leading digital publishers in sales volumes and number of titles. That is a sign of how far we have come in a very short time."
He pointed to Futurefolio, Future's Apple-approved software, which it has used to help create the iPad edition of Total Film.
Future believes there is an opportunity to licence the software to other publishers.
One clear future revenue stream for the publisher is, according to Wood, the repurposing of its titles for new markets, such as the TechRadar title, which has been customized for the US market.
Follow John Reynolds on Twitter @johnreynolds10