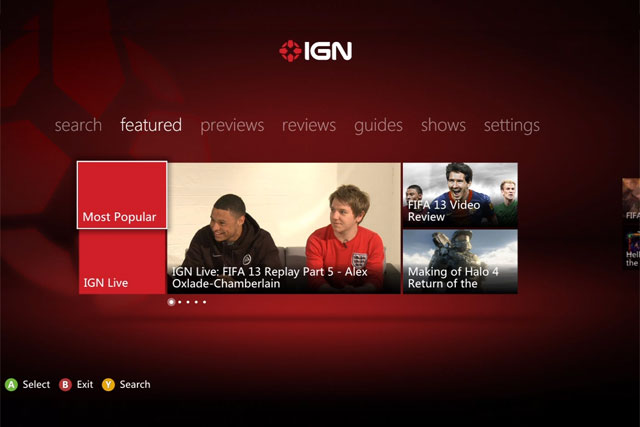 The IGN app will offer Xbox Live Gold subscribers access to gaming-related content, including live streams of game presentations and industry events such as E3 and the IPL, IGN's pro-gaming league.
Xbox users will also be able to access game walkthroughs, previews and a catalogue of IGN shows including 'The Daily Fix'.
An IGN spokesperson claims the app is the first gaming publication app to be hosted on the Xbox Live platform in the UK. Ad sales will be split between Microsoft and IGN.
Rich Keen, international publishing director at IGN Entertainment, said the app will offer "the very best of our global video content with a local flavour" straight from user's televisions.
Keen said: "IGN's mission is to reach gamers wherever they are, across all platforms, services and devices."
Rohan Oommen, general manager at Xbox Live EMEA, said: "We're seeing usage of video, TV and film apps on Xbox Live increase 140% year on year."
The IGN app is available on Xbox Live in the UK, Germany, Austria, Switzerland and the US, with further countries to follow over the coming year.
Other apps that are set to launch in Europe include Absolute Radio in the UK, Sport1 in Germany and TV3 in Spain.

Follow @mattchapmanuk