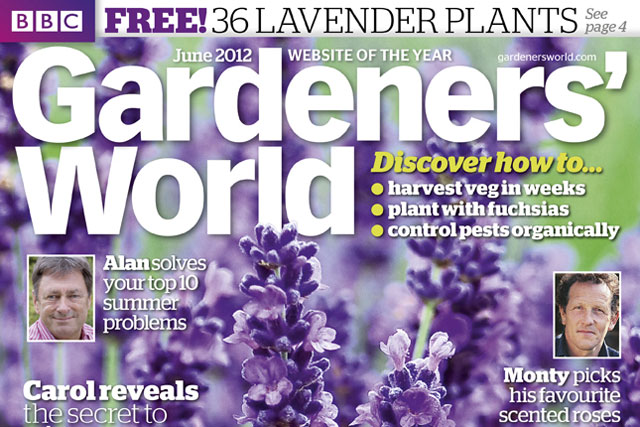 The magazine, which celebrated its 20th anniversary last year, will carry a lavender-scented scratch-and-sniff cover for a garden aroma-themed issue as part of its springtime push for extra sales.
Immediate Media claims this is the first time a gardening title or a BBC brand has used a scented cover in this way.
Advertisers in the June issue include Honda, Nissan and John Deere.
The production team used supplier Celloglas to apply scent varnishes onto paper for promotional purposes. The cover is a spot-varnished cover, with an area left clear for the scent to be applied. The reader is able to simply rub the middle of the cover to release the scent.
In addition, there is an A5 bound-in insert card, produced by a different supplier, Antidote, who supplied three other scents – tomato leaf, sweet violet and a mystery scent for the reader to guess at.
Koli Pickersgill, group production manager for Immediate Media, said: "The whole project was time-and-quality critical, but we are delighted with the overall production and final results. Lavender was one of the first choices, but there were others tested which did not smell as good or as authentic. It was essential that the scent varnish could be reproduced consistently and effectively throughout the run."
Gardeners' World records 40% of annual business in the spring – the peak months of the gardening season.
The gardening title has delivered a robust performance in the magazine market following a relaunch last year. Its July to December circulation of 216,620 copies was up 2% year on year..
Dominic Murray, publishing director for Immediate Media, said: "Underlying our recent success in print is our willingness to continue to invest in adding value for our audience and this innovative scented issue is a great example of this. Our annual spring campaign is always key to our success – the whole team has worked together on this and I'm delighted with the result."
The launch is another example of how print magazine publishers are keeping the print format fresh in a market which is becoming increasingly digital-led.
The Gardeners' World magazine website recently became the first BBC brand to use Immediate Media's innovative in-house web platform, following the creation of Immediate Media in October 2011 out of the combination of several BBC titles and magazine publisher Magicalia.
This already powers a range of special interest sites, including VisorDown.com, GolfMagic.com and MadeforMums.com.
Gardeners' World is also launching its second iPad app – 100 Greatest Plants – this week, following the Gardeners' World Grow Your Own Fruit and Vegetables app in March.
Follow Nick Batten on Twitter @NickBatten2