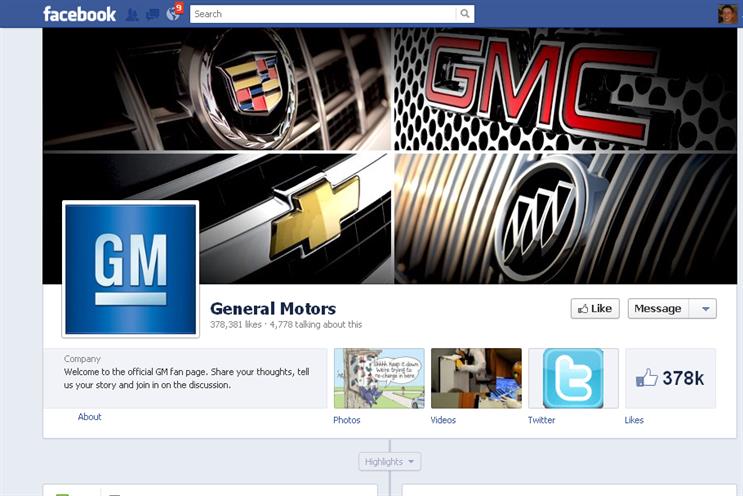 GM has trialled branding on Facebook for a number of its car marques, including a new app for US brand Chevrolet.
A spokesman for GM told Media Week the company "had reassessed our Facebook advertising plans and by mid-year we will no longer be advertising on Facebook".
He added: "We remain committed to an aggressive Facebook content strategy through all of our products and brands, as it continues to be a very effective tool for engaging with our customers."
The move by GM comes as Facebook approaches an IPO expected to value it at more than $100bn. According to the Financial Times GM spends about $40m (£32.5m) on Facebook activity, $10m of which is on advertising.
However, GM's rival Ford has countered GM's concerns today, by stressing it has developed a successful relationship with more than 10 million fans on Facebook.
A spokesperson said: "Ford is accelerating our efforts in Facebook and other social platforms. It's all down to execution. We've found Facebook ads to be very effective when strategically combined with engagement, great content and innovative ways of storytelling, rather than treating them as a straight media buy.
"We continue to have a strong, collaborative relationship with Facebook, which includes first-of-a-kind vehicle reveals, advertising and innovative ways of sharing content. Our engineers have also been working with Facebook engineers to develop unique and safer ways of integrating the car experience with Facebook."

Four months ago GM appointed Carat to handle its $3bn global media account, displacing the US incumbent Starcom.
GM's comment risks fuelling further questions about whether Facebook, which makes the vast majority of its money through advertising, can justify such a high valuation in the long-term.

Facebook has ramped up paid-for opportunities this year, ahead of the IPO, as it looks to generate more revenue from its 900 million users.
It has also stepped up its charm offensive on agencies and marketers in attempts to attract more spend to the site, and has signed some major ad partnership deals with companies including Heineken and Diageo.

However in the run-up to the IPO, concerns have been expressed over the ability to aggressively commercialise Facebook. The social networking site recently reported its first quarter-on-quarter revenue drop in two years.

Furthermore, in a filing last week, Facebook listed mobile advertising as a 'risk factor', admitting its migration of users to mobile, where its ability is 'unproven', may 'negatively affect' its revenue and financial results.
Follow Sarah Sheaman on Twitter: @Shearmans