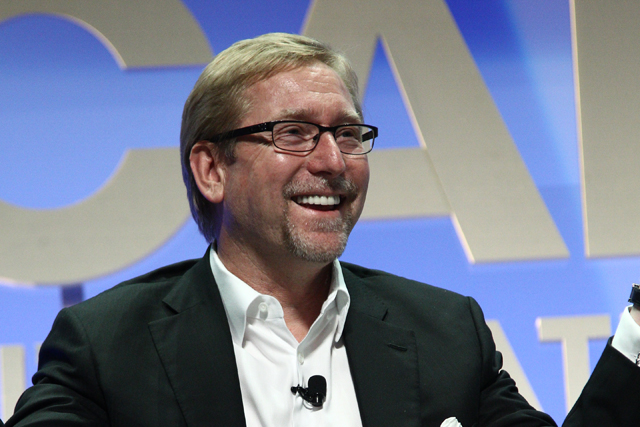 The unexpected and abrupt departure last month of Joel Ewanick (above), the high-profile chief marketing officer hired by General Motors two years ago to be - in chief executive Dan Akerson's words – 'a glass-breaker', raises questions about the wisdom of hiring putative marketing 'superstars' in an attempt to turn a business around.
Vodafone's Clare Sheikh: Guiding star vs superstar
Although swift and ruthless in prosecuting what he felt needed to be done, Ewanick stands accused of running GM's marketing department as his personal fiefdom.
'I know a lot of the public views this as a personality-driven industry, [but] it's a team effort,' said Akerson, when he was asked by analysts and reporters about Ewanick's exit.
Ewanick has spent more than 20 years at the top of the profession, working at Porsche and Hyundai before joining GM in 2010. His status as a marketing star was cemented when Forbes named him as its chief marketing officer of the year for 2010.
Infrastructural shake-up
Within his first year in the GM job he 'shook up the advertising community by restructuring GM's 100-year-old marketing infrastructure, which is considered a heavyweight in the advertising world' Ewanick wrote on his LinkedIn page. 'By Q2 2012, already trimmed $2bn from the five-year marketing plan, while simultaneously strengthening brand awareness and integrity beyond US borders'.
Despite such achievements, Ewanick proved dispensable to GM.
Those whose 'personal brand' assumes disproportionate importance can expect a short time in the sun, argues consultant Mike Sommers, who headed marketing for Woolworths and TSB in the 90s. 'Charismatic leadership can engender enormous loyalty and hard work from a team and attract positive publicity,' he adds. 'However, an organisation can only cope with a certain amount of destruction, however creative, and after a while the antibodies gather around the individual, and the corporate body rejects them.'
A less risky strategy than GM's is to eschew 'personalities' in favour of those whose chief concern is the organisation's success.
British Airways recruited Kerris Bright (right), formerly chief marketer at Akzo Nobel, as its global marketing chief in 2010 to overhaul its oft-criticised marketing strategy, resulting in the 'To fly. To serve' revival campaign.
Bright, who left BA in 2011 for bathroom fixtures company Ideal Standard, is an example of the second type of marketer.
Those who make the biggest impact, she contends, 'usually come up through a company or got under its skin, are passionate about creating value through the customer's eyes, but unlock that value inside the organisation'.
To this end, the team is all-important, Bright insists. 'As a lone star, you can make some great advertising, and some people build their profiles doing that. However, it's a short-term fix. The challenge of marketing leadership is to choreograph relationships, to get everyone behind a common agenda.'
Transforming the brand
Sir Terry Leahy, former chief executive and one-time marketing director of Tesco, perhaps the outstanding marketer of the past 20 years, has avoided the cult of the marketing personality. So has the highly regarded Martin Glenn (right), chief executive of Bird's Eye Iglo and former president of PepsiCo UK. Jill McDonald, UK chief executive and former marketing director of McDonald's, is another who has concentrated on transforming the brand rather than assiduously managing her profile.
It's no coincidence that all three segued smoothly into the top job.
Each also meets the criteria for star quality set out by Helen Edwards, Marketing columnist and partner of consultancy Passionbrand: credibility, based on proven success; a platform, plus the willingness and charisma to use it; and a contribution to the marketing discipline. 'The difference between a talented marketer and a "star" is that "star" implies celebrity status, which suggests someone who is willing to put themselves out there with something meaningful to say,' she explains.
Moira Benigson, managing partner at executive search consultancy The MBS Group, admits that 'superstar' marketers can be difficult to place, because they might pose a threat to the chief executive. A further consideration, she adds, is that, rather than brief flares of brilliance, today's organisations tend to need guiding stars - people who can combine instinct, insight and magic with logic, hard work, tenacity and patience.
As Glenn tells Marketing: 'Anyone who puts ego before team will ultimately struggle. Given that the challenge is to get marketing at the heart of the business, a fiefdom mentality isn't a successful strategy.'
GUIDING STAR VERSUS SUPERSTAR
Clare Sheikh, global brand director at Vodafone, claims true marketing stars need these traits:
Humility - The ability to listen and detect the subtle qualities that make a brand special is key.
The ability to blend the rational and the emotional - This helps to make brand and marketing strategy commercially sustainable as well as emotionally compelling.
The 'common touch' - To make complex problems seem simple.
Versatility - To see parallels and spot gaps in different sectors and solutions.
A collaborative approach - To build teams, inspire loyalty and sell ideas to various groups of stakeholders.
By contrast, she says the 'wrong' kind of stars:
Think they are infallible - Leading to a tendency to hold fixed views.
Are hierarchical in outlook - This leads to an inflated sense of self-importance.
Constantly seek the limelight - Signs include speaking at the opening of every envelope.
Afford 'brand' a higher importance than the business itself - As if the brand existed in isolation from commercial reality.