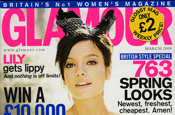 The Condé Nast title sold an average 547,607 copies for the last six months of 2008.

Second in the sector, The National Magazine Company's Cosmopolitan magazine saw a drop of 2.1 per cent on the same period last year, selling an average 450,836 copies from June to December 2008.
Bauer's glossy weekly Grazia recorded a flat circulation of 227,156.
NatMags' Good Housekeeping saw a sharp decrease of 8.3 per cent, selling 425,407 copies.
IPC Media's Woman & Home managed to buck the downward trend in the women's glossies, posting an impressive 5.1 per cent rise on the previous year to record a circulation of 353,160.

In the celebrity sector, Northern & Shell's OK! Magazine posted a sharp 25.6 per cent drop, selling 508,504 copies.

Bauer's Heat also saw a large fall, declining 11.7 per cent on the year with 470,475 sales. Hello! managed to buck the trend and posted a 7.1 per cent increase on the year, selling 423,649 copies.

Take a Break retained the top spot in the women's weekly sector, despite a drop of 5.8 per cent in sales on the year, while Closer stayed in second place despite a decline of 1.6 per cent on the year, selling 539,991 copies.