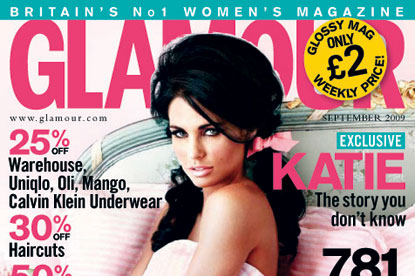 Glamour remained market leader, despite a year on year fall of 4.6 per cent which saw it sell an average 526,145 copies a month in the six months to the end of June.
Sister Conde Nast title Easy Living, targeted at an older audience, saw a 10.5 per cent fall on the year to 180,034, while NatMag's She recorded the biggest drop in the monthly sector with a 14.1 per cent fall to 148,860.
Psychologies saw a drop of 13 per cent and sold on average 130,608 copies.
The National Magazine Company's Cosmopolitan also saw a fall in readers but held on to second place selling an average of 441,663, a drop of 6.2 per cent on the same time last year.
Cosmopolitan's sister title Good Housekeeping stayed in third place but fell 4.9 per cent to 410,011 copies.
The title was closely followed by IPC's Woman & Home which was one of the few monthlies to see a rise in readers.
Woman & Home recorded a rise of 4 per cent year-on-year selling 350,212 copies while Bauer's More! turned around its circulation slump to record an impressive 17.3 per cent rise on the year to 190,708 copies.
Vogue saw a fall of 4.8 per cent on last year, and a 4.5 per cent drop on the previous period to sell 210,435.
In the weekly sector, Northern & Shell's OK! Magazine overtook Bauer's Closer to second place with an 18 per cent rise on the previous period to 599,847 copies while H Bauer's Take a Break remained market leader despite a 6.3 per cent fall to 920,060.
Bauer Media's Heat saw a 5.3 per cent drop to sell 445,192, while sister title Closer recorded a slight increase on the year 0.6 per cent to sell 530,371 copies.
IPC's Now magazine saw a 14 per cent drop on the year to 384,356.