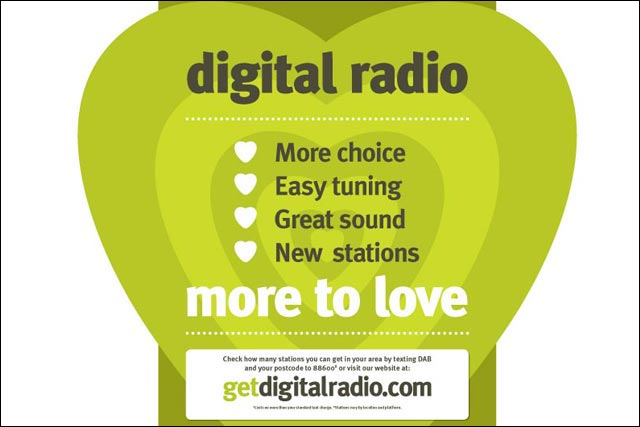 Yesterday, Digital Radio UK, the body charged with readying the country for digital radio switchover, announced it was to launch a campaign promoting the range of stations and music genres available on digital radio.
Although the campaign will run on the stations of Bauer Media, GMG Radio, Absolute Radio and UTV Media, it will not be carried by any stations owned by Global Radio.
A spokesman for Digital Radio UK said: "Major groups running the campaign across their stations include Bauer, GMG, Absolute and UTV. Global Radio will consider the digital radio campaign once the local coverage discussions are concluded."
According to Rajar, digital radio's share of all radio listening rose from 25% in the fourth quarter of 2010, to 26.5% in the first quarter of 2011, but it still sits significantly below the 50% level the Government wants it to hit before starting the digital switchover process.
Although the share of listening attributed to DAB was 16.7% of all listening, a new high for the format and up from 15.8% in the previous quarter, it is still dwarfed by AM and FM at 65.4% of all listening, down from 67% in Q4 2010.
The radio industry has been in discussions with the Government about the rollout of local DAB, after the BBC committed only to paying for a national service, in September 2010.
The industry is hoping to resolve its differences in a meeting next month, when it is expected to confirm that the cost of rolling out local DAB to around 90% of FM coverage will be shared between the commercial radio industry, the BBC and the Government.
Earlier this month, figures from audience measurement system Rajar showed that many of Global Radio's major stations, including the Heart and Capital networks, have lower proportions of digital listeners than the industry average.
In the first three months of 2011, just 13.5% of Global Radio-owned 95.8 Capital FM's 13.7 million hours were listened to on a digital platform, behind the all-radio average of 26.5%, and the third-lowest after Sunrise Radio and Buzz Asia.
The role of Global Radio in the negotiations over DAB will be crucial, as its stations, including the only nationwide commercial FM licence in Classic FM, account for around 60% of the commercial radio industry.
William Rogers, chief executive of local radio companies TLRC and UKRD, which were not offered the campaign, said: "We do not believe in misleading the public, and all too often, these campaigns leave out important pieces of information, which prevent listeners from making an informed decision."
UKRD and TLRC are essentially FM radio businesses and just one of their 16 stations, which are run by a single management team headed by Rogers, is broadcast on DAB. Rogers has been a vocal opponent of the switchover process.
A spokesman for Global Radio declined to comment further than the statement from Digital Radio UK.