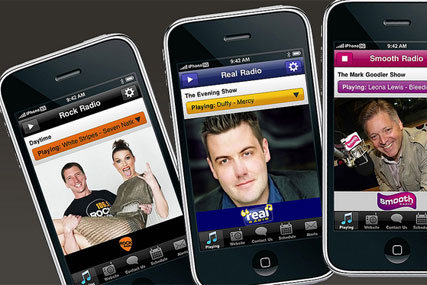 The apps will allow users to stream live content, buy music and interact with the stations, and offer new advertising opportunities.
They were produced by the digital team at GMG Radio, in conjunction with ad agency and web design company All In Media, and are available for the iPhone, iPod and iPad from Apple's App Store.

Listeners will be able to use the app for background listening if their device supports it, click through to either buy or share songs that are being played on the station, and set reminders for their favourite shows.

Each app will serve a pre-roll audio ad before the live streaming begins. Advertisers will be able to target listeners by device and also launch app-friendly promotions and giveaways.

Jonathan Gillespie, group commercial director at GMG Radio, said; "These will be three of the most comprehensive radio apps in the market place to further enhance listeners' enjoyment of Real, Smooth and Rock Radio."

The apps also allow listeners to access website content including competitions, news, quizzes and galleries, and will send alerts for the latest news, information and competitions direct to the users device.