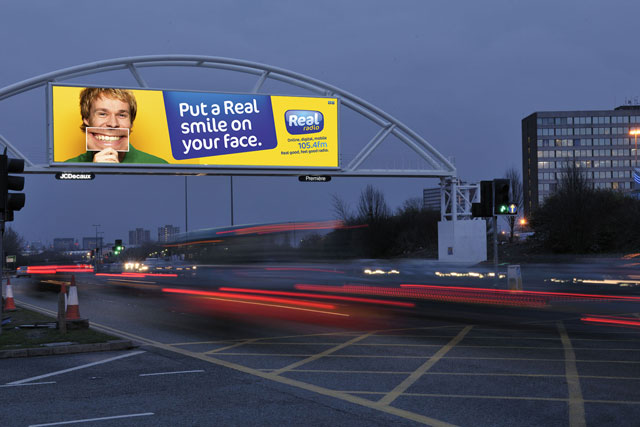 The outdoor and digital ad campaign, planned and bought by MediaCom North, starts on Monday 16 April. It will target Real Radio's recently refined 30- to 39 -year-old target demographic, and will feature the tagline, "Put a Real smile on your face".
Digital display and video-on-demand ads will target 30-something adults and aim to encourage people to sample Real Radio by listening to the network on the online radio service, UK Radioplayer.
A series of 48-sheet billboards on commuter routes and ads on the back of buses and petrol pump handles will target people travelling to work or taking children to school, while digital 48 and six-sheets will use regularly updated content.
Real Radio retained Clear Marketing for its ad business in August last year. The latest ads were created by the Clear Marketing team and the photographer was Tim Ainsworth.
Jonathan Gillespie, group commercial director, GMG Radio, said: "Our extensive research has provided a new marketing direction for the Real Radio brand, and the underlying message of this campaign is that listening to Real can provide you with an everyday source of fun and positivity – in essence it makes you feel happier."
Ahead of the marketing campaign, Real Radio has redesigned its blue and yellow logo to give it a more contemporary modern look, and the network's websites have been updated by digital agency Code Computerlove.
The new websites have more advanced data collection capabilities, including integration with Facebook's Open Graph, which will allow Real Radio to offer advertisers increased targeting of specific audience groups.
According to Rajar audience figures, in the fourth quarter of 2011, Real Radio had an average weekly reach of 2.52 million listeners, up 7.0% year on year, but down 3.5% quarter on quarter.
Andy Carter, group managing director at GMG Radio, said: "This significant investment in the brand will introduce or reintroduce the stations to a growing market of listeners who are increasingly finding that most stations don't resonate with them.
"We look forward to adding to Real Radio's 2.5 million listeners as the year progresses."
Follow Maisie McCabe on Twitter @MaisieMcCabe