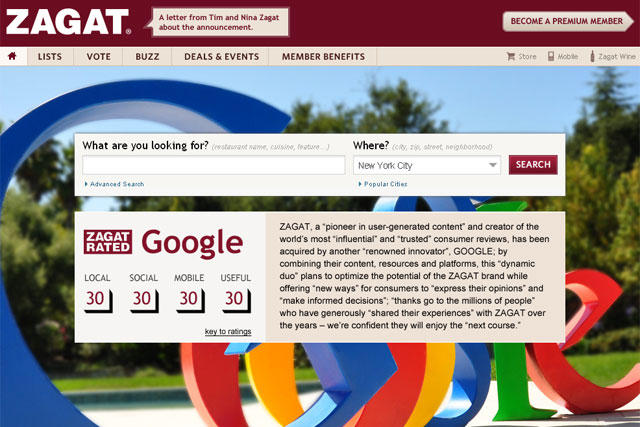 The 32-year-old Zagat publishes guides based on in-house reviews of restaurants and user-generated ratings in print and online.
It operates in 13 countries and offers guides to 100 cities around the world.
Marissa Mayer, Google's vice president of Local, Maps and Location Services, wrote on the company's official blog yesterday: "Moving forward, Zagat will be a cornerstone of our local offering.
"Their surveys may be one of the earliest forms of user-generated content, gathering restaurant recommendations from friends, computing and distributing ratings before the internet as we know it today even existed.
"Their iconic pocket-sized guides with paragraphs summarizing and 'snippeting' sentiment were 'mobile' before 'mobile' involved electronics."
Google's move could bring it up against travel guide and reviews operators such as Yelp.com, Toptable and Time Out, which has signalled it to become a more digital business.
The acquisition comes as Google is trying to grow its share in the location-based deals marketplace. The company launched Google Offers in the US in May, while on 2 August it acquired daily deals startup Dealmap.
Last month, Google agreed to buy mobile phone business Motorola Mobility for $12.5bn (£7.7).