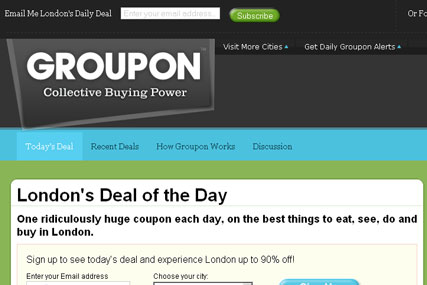 The US-based start-up Groupon, which was launched two years ago, works with local businesses to offer steep discounts on services and products, such as beauty treatments and meals, if enough users pledge to buy them.

This means subscribers to Groupon will share the deals with friends via email and social media platforms to ensure each deal has enough interest to go through.
Half of the revenue goes to the merchant while Groupon keeps the other half. It claims to have sold over 18.7m Groupons since it launched, saving subscribers over $808m.

If the deal had gone through this would have been Google's largest acquistion to date, after it bought online ad service DoubleClick in 2007 for $3.1bn.

According to reports Google had plans to integrate Groupon into its local search service Google Places, in a bid to challenge Facebook's recently launched Deals.

Last week, online retailer Amazon invested a reported $175m in rival coupon site LivingSocial.