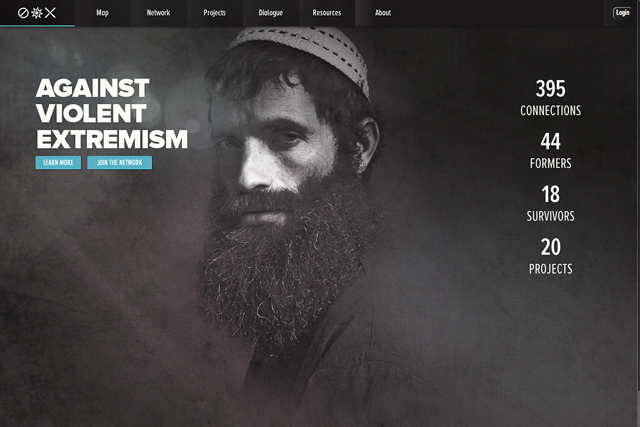 Launched in October, Google Ideas aims to "explore the role that technology can play in tackling some of the toughest human challenges". It is the brainchild of former political advisor Jared Cohen, the director of the organisation.
It has partnered with the Gen Next Foundation, the Institute for Strategic Dialogue and rehabstudio to create the Against Violent Extremism (AVE) network.
Rehabstudio handled the design and build of the platform, which is a standalone site, built on the Google+ API.
The concept is to provide an online destination for former terrorists, violent extremists and victims to communicate around their experiences.
It is looking to target activists, policy-makers, entrepreneurs, and other business people who have an interest in countering violent extremism, while providing a resource for the media who can connect with the network users to use them as spokespeople.
The site will also include a "professional skills swap" with information such as how to run a charitable organisation, how to create a marketing campaign, build a website. Actvists will also be able to upload video to the site on its YouTube channel.
The idea was born out of Google Ideas' Summit Against Violent Extremism in Dublin last year, which united perpetrators and survivors of violent extremism.
The AVE network launched yesterday at an event in New York and will be supported by digital and PR activity. It aims to have 500 members by the end of the year and 1,000 members by the end of the second year.
It claims to have already signed up former members of the white power movement in the US and former Islamist extremists from Indonesia.
Yasmin Dolatabadi, principal at Google Ideas, said: "This website brings to fruition a platform for 'formers' to speak out, a way to scale connections and project resourcing, and a path for non-governmental leadership.
"Not only does technology allow the conversation to continue, it also creates unlimited space for collaboration."
Follow Sarah Shearman on Twitter @Shearmans