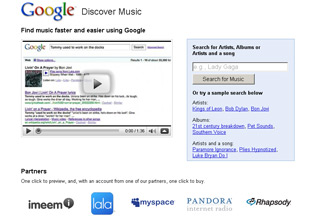 When a user searches for a music-related query such as the name of a song, artist or album, search results will include links to an audio preview of relevant songs provided by partners MySpace and Lala.

Clicking on the result allows a consumer to listen to an audio preview of the song directly from one of those partners, with links to purchase the full song.

MySpace will provide streaming music from record labels EMI, Sony, Universal and Warner.

The pop-up player includes a link to music videos and any relevant tour information. Users will then be able to buy songs from iTunes or Amazon.