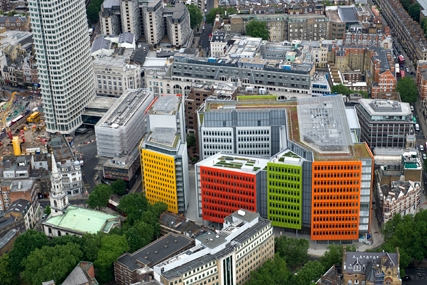 Google UK is taking office space on the entire fourth, fifth, and ninth floors and part of the third and sixth floors at the building on a ten-year lease.
Some Google UK teams will move to this new space, while others will remain in their existing office space in two buildings on Buckingham Palace Road, Victoria.
Other business to occupy the Legal & General and Mitsubishi Estate company-owned building include NBC, Specific Media and Burson-Marsteller.
Matt Brittin, managing director of Google UK, said: "This is a fabulous building and we'll be working hard over the next few months to fit it out in Google style, ready for some of our teams to move later in the year.
"As well as its size and green credentials, it has the advantage of being even closer to some of our major customers and partners. This is all part of our continued investment in our UK operations, and we're hiring rapidly across all our teams."
In November last year, David Cameron announced plans to create a Tech City in London's East End, spanning from Shoreditch's Silicon Roundabout to the Olympic Park in Stratford.
Twitter, which is currently looking for a European headquarters in London, is also rumoured to be making enquiries about the possibility of buying into the area.