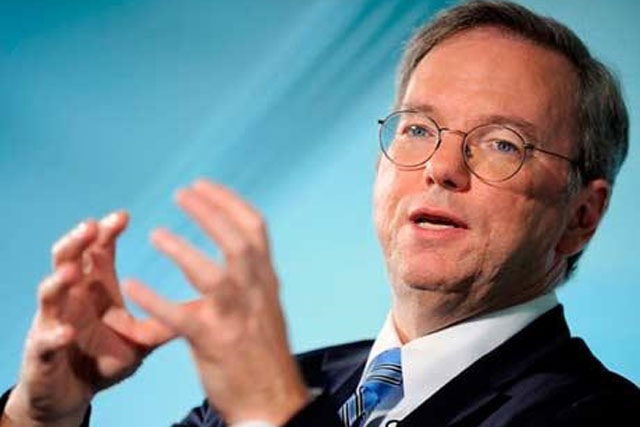 Schmidt was sent a letter by the European Commission on Monday that gave Google a "matter of weeks" to come up with remedies to concerns from rivals over its dominance of the search market.
Speaking yesterday at Google's Big Tent conference in Hertfordshire, Schmidt is reported to have said: "We disagree with any violation in general."
He went on to say that until the EU is "precise" about what areas of the law Google has violated "it will be very difficult for me to speculate".
He said the company has agreed to have a series of meeting with the Commissioner but was not willing to speculate on the specifics of the complaint.
The European Commission launched a probe into Google in November 2010, following a number of complaints from competitors, such as formerly Microsoft–owned shopping site Ciao and more recently Expedia, who claimed it was abusing its search dominance.
Joaquín Almunia, vice president of the European Commission responsible for Competition Policy on Monday outlined four areas of concern relating to its search business.
Almunia said "for the benefit of competition and innovation in the sector" that he hoped Google "seizes this opportunity" to "swiftly" resolve its concerns.
The concerns include Google displaying links to its own vertical search services differently than it does for competitors, which may result in preferential treatment that could "hurt" competing services.
Another concern is that Google may be copying original material, such as user reviews, from the websites of its competitors and using it on its own sites without their prior authorisation.
In terms of paid search, it is concerned about the exclusive arrangement between Google and partners which use Google to power search on their own websites, because they shut out competing providers of search advertising intermediation services.
The final concern is that Google imposes contractual restrictions on software developers which prevent them from offering tools to allow them to transfer search advertising campaigns across AdWords and other platforms for search advertising.
The EU has powers to fine Google up to 10% of its global revenues and force it to change its behaviour without court order if no settlement is reached.
Follow Sarah Shearman on Twitter @Shearmans