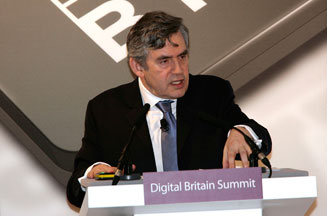 The report sets out a vision of a UK population equipped with universal 2MB broadband, web-enabled mobile phones, multichannel television and digital radio. No longer will we queue at post offices or doctors' surgeries. Instead, registering to vote, applying for a student loan and accessing health services will be done through a single online portal. In short, government 'of the web', not just 'on the web'.
In practice, this will be a long and complex process involving mobile firms, media owners and regulators; currently 11% of the country has no access to even basic broadband services.
Communications minister Lord Carter wants to 'get Britain online' using a marketing plan similar to that used for the digital-TV switchover. He plans to set up a digital participation consortium, led by Ofcom, which will receive £12m to plan and roll out a three-year communications campaign.
Beth Thoren, marketing director for Digital UK - the organisation set up to lead the transition from analogue to digital TV - warns it could be more difficult to sell universal broadband than digital broadcasting because 'the benefits are more difficult to articulate'.
The consortium will include the BBC, ITV, Channel 4, BSkyB, Bebo, MySpace, Yahoo! and Google. It will ensure the population is 'digitally engaged' through a communications campaign that will draw on members' assets, 'including their brands, literature, audiovisual materials
and advertising inventories'. For consumers who need more support, the government wants to use direct marketing and skills training.
The strategy has been welcomed by marketers. Dave Katz, head of trading at media agency MPG, says the online push is 'fundamentally necessary' and will help save public money.
The BBC is being urged to play a lead role in marketing broadband and providing the content that will drive interest. Some of the £200m in public funds allocated to ensuring everyone has 2MB broadband by 2012, will come from the 3.5% of the licence fee used to promote the digital TV switchover.
However, despite all the marketing flagging up the benefits of digital TV and informing viewers of the steps they must take, some are not ready. Thoren says that, with the analogue signal gone in just 1.5% of the country, it is 'too early to say if it is a success'. Some consumers, for example, have found it difficult to retune equipment - an issue that Thoren says she and her team are trying to get their 'heads around'.
Digital agencies suggest that selling the broadband message would be helped by heavy marketing from Virgin Media, BT, O2 and TalkTalk.
However, the 'Digital Britain' report admits that it is 'clear that the current offer is not sufficiently exciting to motivate some people to get online'. Indeed, the current multiple marketing messages about super-fast broadband, bundles, fixed broadband and mobile broadband are, arguably, too confusing, even for the digitally switched-on.
Thoren says broadband providers want to convince existing customers to upgrade to faster, pricier packages. To persuade the private sector to join in a push for universal 2MB broadband take-up, then, will take quite a shift.
Katz, though, believes this can be done. 'If people are using these digital services, it is good for the whole market,' he says. 'Having a base level is better than not having anything.'
A fully digital Britain will not happen overnight - Carter agrees the aim of bringing the UK online is 'ambitious' -but marketing the proposition clearly to consumers now is vital.