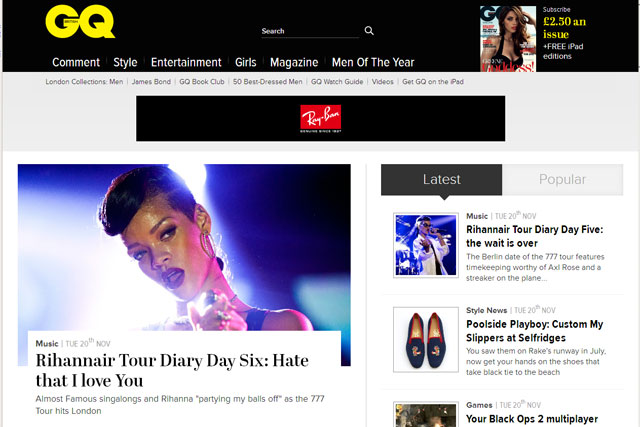 The revamped GQ website has been built in HTML5 and includes updated style, entertainment and comment sections.
Dylan Jones, editor of GQ, said: "This refresh is the culmination of learnings to date, taking advantage of the smartest, most sophisticated technology available, playing to the core values of the GQ brand, while capitalising on the timeliness of the web."
The revamp is part of an on-going investment in the website by Condé Nast to attract greater user numbers, as it seeks to up the ante against rivals such as Esquire magazine.
According to Google Analytics, GQ.co.uk received 6,799,132 page impressions and 584,326 unique users over a six-month period between January and June.
As part of the redesign, the website boasts new advertising opportunities, which will run alongside its existing advertising formats, such as current banner-ad formats.
GQ claims that the revamped ad formats will be more responsive. The redesigned website goes live this week.
Jamie Jouning, digital director for Condé Nast, said: "The new-look GQ.co.uk is another step on our journey towards creating best in class multi-platform brands. Like its sister site vogue.co.uk, also recently re-imagined, GQ uses cutting-edge responsive design to ensure a seamless creative experience from desktop, through tablet, to smartphone.
"GQ's online advertising strategy is non-intrusive, highly engaging and device-agnostic whatever technology you're using – it's as flexible and responsive as the content on the site."
GQ's iPad app has reported audited digital sales of 9.652 between January and June 2012.
Follow @nickbatten2