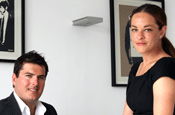 Jaimes Leggett, a group director, will take the role of managing director of Grand Union, a position that has been vacant since the former managing director, Lee Wright, left to join Dare in March 2006.
Watkins' appointment to the newly created chief executive role has been prompted by a decision to bring the two agencies closer together to provide a more integrated offering to clients.
Watkins and Leggett will report to the agency's founding partners, Rob Forshaw and Matt Nichols, who are planning to step back from some of their day-to-day agency management responsibilities.
Forshaw said: "Not only are these talented individuals in their own right, but collectively they are a very exciting and dynamic management team. We are delighted for them and are excited about the future development of the agency."
Watkins joined Grand Union in 2005 when the agency launched Hubbub, with a remit to head up the branded content offering. She was previously a director at Stream\.
Leggett began his career client-side at UMC in New Zealand before moving on to the digital agency DMD New Zealand in 2001. He then joined Grand Union as an account director in 2005.
Grand Union, which recently won a global digital brief for Stella Artois, is one of the UK's few remaining independent digital agencies.