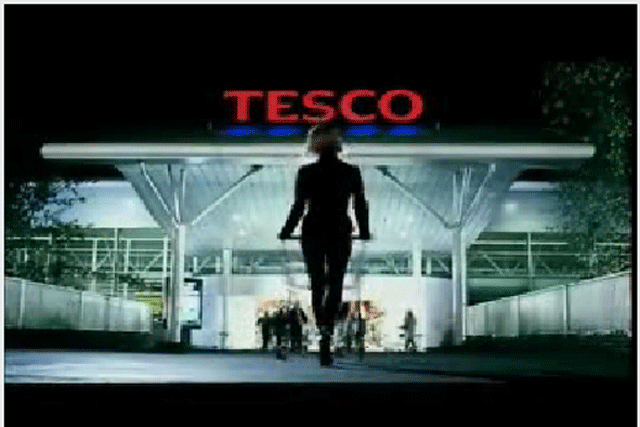 What could be more convenient than having a Tesco Value haircut or a Tesco Finest manicure when you pop to the supermarket to pick up some bread and milk?
As revealed in Marketing last week, Britain's biggest retailer clearly thinks there is a market for beauty services.
Internally referred to as the 'Better than Boots' concept, Tesco has already started trialling nail bars and eyebrow threading in four of its stores. It has also confirmed that two beauty salons, branded Your Beauty Salon, are scheduled to open next week (31 January), offering haircuts costing from £12.50 and leg waxing from £10. These will be distinct shops within Tesco Extra branches.
The supermarket intends to roll out the concept to a minimum of 70 stores by 2012, with a view to creating a £15m-turnover business in its first year. As well as beauty services, the project also involves a major push into selling more upmarket beauty products.
Tesco beauty category manager Andrew Carpenter views the beauty market as 'a huge opportunity' and believes that there is a lot more '[Tesco] can be offering our customers'.
'We feel the convenience of great value and quality services, from manicures to full waxing and styling, could be a success with customers,' he adds. 'We are currently only at the testing stage and keen to understand how our customers receive the service in these stores.'
The foray into beauty is yet another example of Tesco's diversification (see box). Earlier this month, it launched a cash-for-gold service, while last year it began testing an online estate-agency business. A decade ago, it even toyed with the idea of selling cars, initially trialling the concept by putting scooters on sale for £1200.
'Wind the clock back 20 years and we could be having the same conversation about Tesco moving into dry-cleaning or photo processing,' says Mark Dickens, retail director of marketing consultancy Wanda Communications.
'Tesco wouldn't be doing this if it didn't have the consumer insights showing that it could work,' he adds.
Dickens, who has previously worked with Tesco on store concepts, says the retailer is adept at spotting consumer demand and experimenting in new areas. 'Tesco sells just about everything, so it has to look at where it can go next. It's always willing to experiment and spend a bit of cash to try things out.'
Targeting Boots
The expansion will give Tesco, which already has pharmacies in hundreds of its stores, an opportunity to make further inroads into Boots' share of the health and beauty market.
'Supermarkets have been gaining ground on health retail for some time, with most larger stores now having a pharmacy,' says Dickens. 'So it makes sense that the beauty bit is now coming into focus.'
Lopo Champalimaud, co-founder of health and beauty discount website Wahanda.com, believes that Tesco's brand power will enable it to successfully enter the beauty arena.
'There are not a lot of big brands or chains in beauty, so there is an opportunity for Tesco to come in with a branded service,' he says. 'Its physical locations mean it is ideally placed, as it has a lot of customers coming through on a regular basis, perhaps at a time of day when they might have the time to stop for a treatment.'
Champalimaud points to Wal-Mart's beauty services, which include SmartStyle hair salons in 2100 of its stores in the US. Although Wal-Mart does not own the brand, SmartStyle is exclusive to the retailer's outlets.
'I would not underestimate how well Tesco could do in this area, as it has the audience and the footfall,' says Champalimaud. 'With "maintenance" beauty treatments, such as threading, hair-colouring and manicures, Tesco could do well. However, I'm not so sure about pampering treatments, such as a massage.'
Neil Saunders, consulting director at Verdict Research, on the other hand, contends that shoppers are not ready to submit themselves to beauty treatments in a supermarket. 'People want to feel relaxed and pampered when having their hair or nails done - this isn't the case when you're rushing around Tesco at 5pm,' he says. 'A value haircut might be appealing to some, but most women want to feel special - they don't want to tell people they got their hair or nails done at Tesco.'
Consumers, particularly women, find a certain comfort in paying more for a haircut or a premium perfume, he adds.
Ill-suited environment
Similarly, while Tesco's store environment is clearly fit for purpose when it comes to groceries and clothing, Saunders argues that it is not right for selling prestige brands, such as Clarins or Clinique.
'It is not really a nice-looking store, so Tesco needs to create a much more personal space,' he says. 'Obviously, Tesco has sizeable Extra stores, but (beauty outlets) will require a significant amount of space, to be kept quite separate in order to feel more premium.'
Tesco is used to having brands jockeying for space on its shelves, but Saunders points out that there is likely to be resistance from some prestige beauty manufacturers.
'These brands could well have an issue with being seen in Tesco - it's a bit too mass-market and accessible,' he points out. Saunders suggests a solution could be for brands to produce a fusion line for Tesco that still carries the prestige of the brand name but is distinct from the ranges found in department stores.
At the time of going to press, Clinique was not available for comment on whether it would steer clear of a supermarket listing. However, a reluctance by brands is unlikely to put Tesco off, thanks to the opportunity to source products through the grey market. Superdrug, for example, sources many of its premium products this way.
Saunders believes that the Tesco brand naturally lends itself to functional offerings. 'A service like a dentist could actually work for Tesco - it would have good opening hours and be convenient,' he adds.
However, Saunders does not think consumers will be convinced by the supermarket selling the sort of spa treatments due to launch in John Lewis stores this summer.
No one can doubt the marketing muscle of a £63bn-turnover Tesco, or underestimate how well it knows its customers, thanks to its Clubcard database. Indeed, Tesco seems confident that its brand can stretch into almost any area, especially where customers will buy into the trust evoked by the well-known name.
Nonetheless, Dickens suggests that on this occasion the supermarket might be firing wide of the mark.
'Tesco is pushing it too far,' he says. 'It is losing track of what it is and what its customers think it is. Tesco convinces itself that customers need hairdressers in their supermarkets as they are the heart of everything in our lives. But it risks losing sight of the fact that it is simply just a shop. Tesco used to be more customer-centric, now it is more unashamedly "big business".'
Tesco: diversification
1997: Tesco Personal Finance launched.
1999: Put scooters on sale for £1200.
2003: Telecoms division created.
2004: Tesco Broadband rolled out. Digital photo kiosks introduced.
2006: Tesco Direct launched, selling home range, including kitchens.
2010: Estate agency set up under the iSold.com brand.Home Services
trialled in Swindon, including plumbers and local tradesmen.
2011: Tesco Gold Exchange launched.Tesco beauty salons tested.