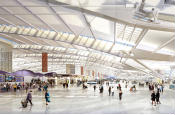 The steering group, whose members include Virgin Atlantic, British Airways and Visit London, is launching a press drive to highlight the damage that UK tourism and the City will suffer if plans for expansion at UK airports are scrapped.
The activity marks a departure from the consor-tium's original aim to 'communicate what the industry is doing' in the face of climate change. The body has already come under fire from industry experts and pressure groups, who have warned that its members may suffer serious damage if it does not produce measurable results.
The consortium has also sent a letter to several national newspapers stressing that 'good air links are a key factor in businesses' choice of location and are crucial to the UK's regional economies'.
Flying Matters was set up in May, following a call by Virgin chief Sir Richard Branson last September for the aviation industry to develop a shared solution to climate change. The group has hired digital agency Unite Form to develop its website, which is expected to go live at the end of next month.
Separately, the aviation industry has been criticised by MPs for failing to encourage carbon offsetting for flights. The Environmental Audit Committee singled out BA for its 'risible' offsetting methods. It has also recommended that the government make offsetting payments mandatory on all airline tickets sold in the UK.