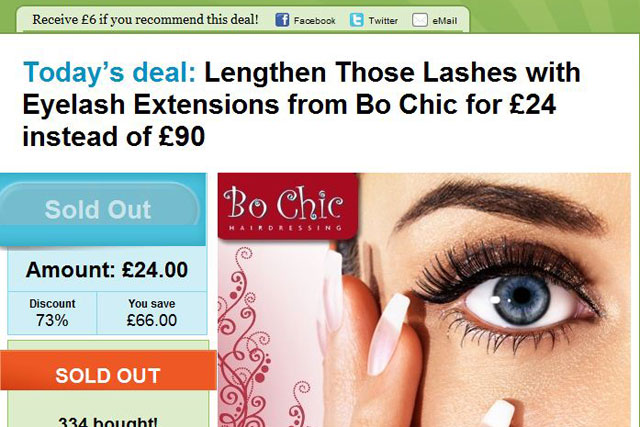 The ruling is the seventh that has gone against Groupon since December, but is the first triggered by a complaint that the pre-deal price was overstated. Other cases have centred on the non-availability of advertised offers and the exaggeration of a discount.
The offer stated: "Lengthen Those Lashes with Eyelash Extensions from Bo Chic for £24 instead of £90."
One person, who had taken advantage of the offer, contacted the Advertising Standards Authority (ASA) to challenge whether the advertised value of the treatment was exaggerated.
In its response, Groupon claimed the Bo Chic salon normally charged £90 for the eyelash extension service, and provided an email price list from the salon owner that confirmed that this was its charge for the service.
However, the ASA said Groupon was unable to provide documentary evidence that Bo Chic salon normally charged £90 for the eyelash extensions service.

It decided the value of the treatment and subsequently, the savings claim, had been exaggerated, and concluded that the ad was misleading.
It told Groupon not to run the ad again in its current form and to ensure that it held documentary evidence of its suppliers' pre-discount prices.