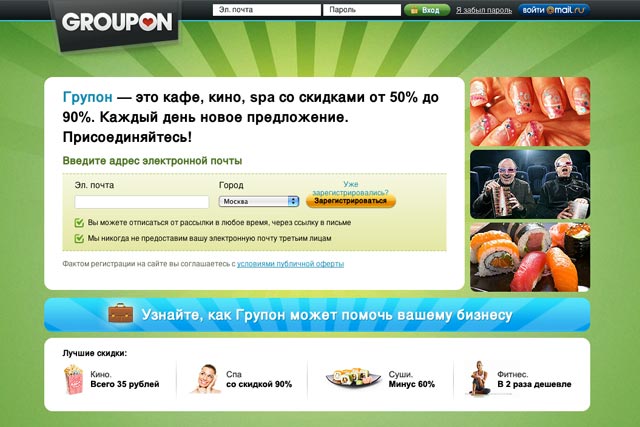 The first stage of the partnership will involve the launch of a joint service between Russian social network Odnoklassniki and Groupon.
The Odnoklassniki audience will be granted access to Groupon's most advantageous and discounted offers to purchase various goods and services.
Odnoklassniki users will be able to choose and purchase services, provided by Groupon, without leaving the social network website. It is the first time Groupon has tied up so closely with a social network, albeit one in Russia.
Ilya Shirokov, vice-president of Mail.Ru Group and the head of Odnoklassniki, said: "This joint service signals the beginning of Mail.Ru Group's enhanced collaboration with Groupon which is further expected to embrace Mail.Ru Group's other projects. Buying discount vouchers on the internet is a growing trend and we continue to deliver value to our customers by getting involved in the newest global trends.
"Our cooperation with Groupon makes Odnoklassniki the first social network in the world to offer its members the full scope of the significant discounts that social commerce offers. Thus, our audience will have the ability to use their social graph more effectively."
Elena Masolova, the co-founder of Groupon Russia (formerly DarBarry) said: "We make significant efforts to negotiate the most attractive discounts to our users and we're confident that the Odnoklassniki users will appreciate the service and will like our exclusive offers".