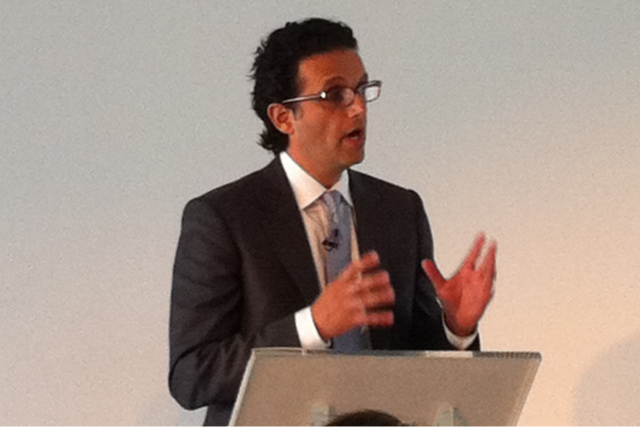 Talking at the presentation of Channel 4's annual report today, the chief executive revealed that the broadcaster was currently "tracking around flat", although stressed that as a sales house it is in "double-digit growth", since it now handles sales for both Box and UKTV.

"Clearly 2011 will not be as strong as 2010, we already know that," he said. "We've yet to see how the second half pans out, but currently we're around flat."

Revelations that the broadcaster is struggling to achieve revenue growth this year comes on the same day rival broadcaster ITV reported ad revenues were up 12% in the first quarter of 2011, helping overall revenues climb 11% to £500m.

However, ITV chief executive Adam Crozier similarly warned ad revenues could fall between 15% and 20% in June, as uncertainty remains around the economy and year-on-year comparisons get tougher due to the ad boost around last year's Fifa World Cup.
Abraham later stressed to Media Week that after a sharp recovery last year, "even if this year ends being flat, or up 1 or 2%, that's not bad."
He added: "I don't think we should be talking ourselves down. There's a lot of late money out there, we've got massive growth on our on-demand services, which is clawing a lot of money out."
C4's digital channels E4, Film 4 and More 4 achieved an operating profit of £54m, helping the public service broadcaster post pre-tax profits of £54m for 2010.

On-demand service 4oD, and general internet services helped Channel 4's on-demand viewing increase by 71% last year. The media owner estimates this represents a 20% share of long-form video on-demand views.

Abraham said this underlined the strong relationships the broadcaster's viewers have with its content, and called it "a source of future competitive advantage".

But the broadcaster continues to face a tough time trying to replace the hole in its schedule filled for the past 10 years by reality phenomenon Big Brother, although chief creative officer, Jay Hunt, has new plans coming to fruition.

Among the more contentious of these is a social science series that intends to show people using class A drugs and alcohol in clinical surrounding under medical supervision.
Hunt explained: "When other broadcasters are more conservative, it's never been more important for Channel 4 to stimulate debate, to challenge the status quo and, above all, to be brave."

The creative chief who has been in place since January also highlighted "dramatic increases in drama, huge investment in entertainment and comedy and also an uplift in what we're doing in the arts".
Charlie Brooker will host three new satircial dramas focusing on the unease in the way technology is changing our world, while animated comedy 'Happy Families' promises to be warm but edgy. The broadcaster has also acquired the US version of celebrated Danish series 'The Killing'.

Hunt said: "It's not one solution to there's no 'Big Brother' this summer. I think there's an awful lot of new content that is risk-taking, that will appear on the screens over the summer."

Talking a year and one week on since he became the broadcaster's chief executive, Abraham said he was "delighted" to be representing such a "unique, creative organisation".
He noted that senior management layers have been reduced by 25% as planned, resulting in a smaller, leaner senior management team, and linear and non-linear operations under one roof.

In 2010, Channel 4 spent £580m on content and, according to an independent study, contributed £1.1bn to UK GDP, and was also estimated to have supported 28,000 jobs through its supply chain.
Abraham, who personally pocketed £528,000 in his first eight months at the helm, added: "I'm particularly proud of 'This is England', it was such a unique voice from Shane Meadows, something that only Channel 4 would do."

Speaking after the closure of the British Film Council in April, Abraham also highlighted the company's commitment to film and long-form content in the last year.

He said: "We have put more money into Film 4, which last year helped produce 'Four Lions', 'I Am Slave', and this year '127 Hours', and launched just this week, 'Attack the Block', an extraordinary and original film with a very Channel 4 flavour to it."