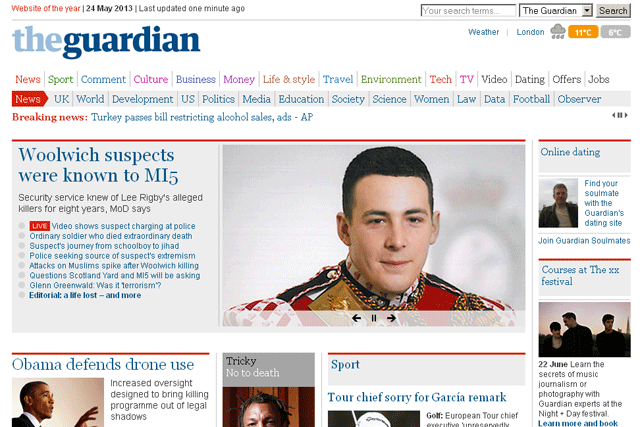 The domain name was previously owned by US-based financial services company Guardian Life, but parent company Guardian News & Media has negotiated a deal to buy the name, as it looks to offer advertisers a more consistent global platform with which to target readers.
David Pemsel, chief commercial officer at The Guardian, told Marketing: "You're either an international brand or you're not, so it was important that we could deliver international consistency.
"Now we can offer readers and our commercial partners a global brand through a single URL, which also has local home pages tailored to our regional audiences."
The Guardian enjoyed a record month in April, according to the latest digital ABC figures, with 41m unique monthly users accessing its content – a third of which, 13m, are US visitors to its GuardianNews.com URL.
With 13.2m monthly British readers, The Guardian also claims to be the UK's most-read quality newspaper combination for weekly and monthly reach in print and online.
In a blog on the newspaper's website, Guardian News & Media's chief digital officer, Tanya Cordrey, added: "This may be a small URL change but it marks a big step for the Guardian and reflects our evolution from a much-respected national print newspaper based only in the UK – reaching hundreds of thousands of people once a day – to a leading global news and media brand.
"This will open up more worldwide commercial possibilities for us in markets across the globe, enabling us to offer our partners and advertisers increased access to our growing global audience."
Earlier this year, The Guardian followed up its acclaimed "Three little pigs" campaign with a tongue-in-cheek ad starring actor Hugh Grant, which claims the newspaper has trademark ownership of the weekend.
The "Own the weekend" campaign, created by BBH, included a three-minute, blockbuster trailer-style ad, which shows a couple and some office workers discussing their plans for the "Guardian and Observer weekend".