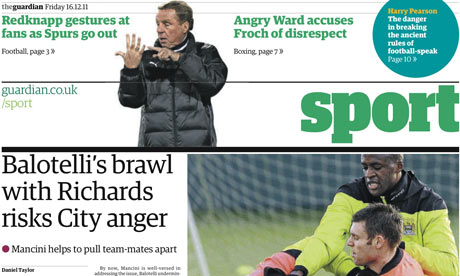 From mid January 2012, the Sport section will return to the back pages of the Guardian for the Tuesday, Wednesday, Thursday and Friday editions of the paper.
The Sport section will continue to be published as a standalone section on Monday and Saturday.
Friday's Film & Music supplement will be merged into G2, which will continue to be published as a standalone supplement.
GNM also said that it is reducing the pagination of the Guardian newspaper, which is likely to lose one or two sport pages from its existing 10.
GNM said it will introduce design changes to the Guardian and the Observer next year.
These changes will run alongside an overhaul of editorial, designed to save £1m a year, which will include cuts to subediting.
The move to cutback on its supplements will not lead to job cuts, the company said.
It marks the latest move by Guardian Media Group (GMG), the parent company of GNM, to reduce costs from the business.
Last month, the group put its PaidContent website up for sale with a price tag of $20m (£12.7m), three years after it bought the New York-bases digital and events business.
The group has also launched a review of its printing operations in Manchester and London, which it said will lead to job cuts.
A GNM spokesperson said: "As part of our 'digital first' strategy, we have been looking in detail at how we produce our newspapers and website, and over the next few days we will be telling staff about our plans for a new, simplified production process.
"This will be introduced in January, along with some changes to the printed Monday to Friday Guardian. The changes to the paper take account of changing patterns of readership and advertising and are based on research with our readers."