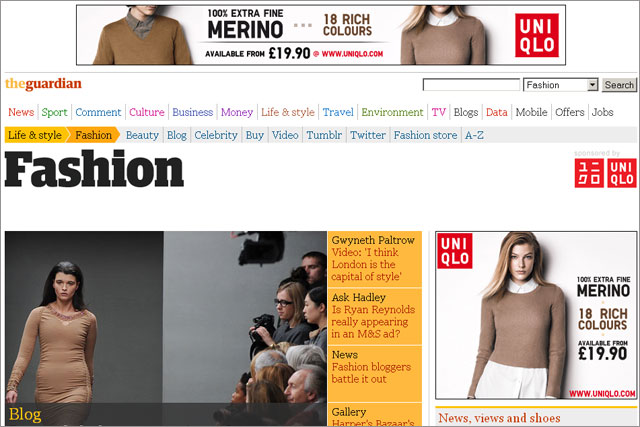 Uniqlo will sponsor the Guardian Fashion site, which relaunched today with a redesign ahead of London Fashion Week, for three months. The deal includes page skins and a roadblock of the ad slots on the fashion content.
The Guardian has also created a Uniqlo microsite, which containing unique fashion content for its readers, including competitions, exclusive offers and information on the fashion brand and its products.
As part of the deal, Uniqlo will be integrated into other areas of the Guardian portfolio and over the coming months it will be creating a series of advertorials for Uniqlo that feature its new products and also its recycling partnership with Centrepoint.
The Guardian's fashion drive began last month, when it relaunched its fashion blog.
Uniqlo, whose head of marketing has stated an aim to make its ecommerce site into its flagship store, has been widely recognised for its digital marketing activity.
Last year when its UK website was down it created a microsite that encouraged consumers to tweet the price of its clothing.