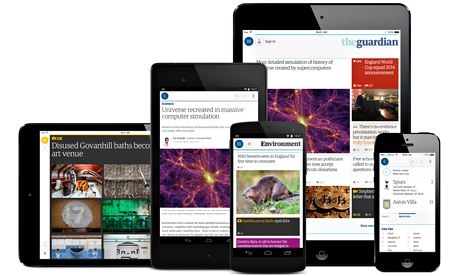 The update to The Guardian's mobile app, which has been downloaded by more than one million people since launch, offers users more opportunities to interact with, and be a part of the conversation by integrating GuardianWitness for the first time.

Available for free across all Android and iOS phones and tablets running Android 4 and iOS 7, the app has been designed to feature Guardian journalism in more interactive ways.

Flexible formatting is said to enable the Guardian's editorial team to curate the content with "greater sensitivity to the news agenda", representing the editorial voice through displays that respond to the importance, type, and tone of individual stories.

Tanya Cordrey, chief digital officer, Guardian News & Media, said: "The launch of the new app is yet another landmark moment in our digital innovation journey, as we continue to evolve and improve the experience of readers across all platforms.
"We have involved readers at each stage of development and have created an app with great design at its heart, offering a personalised and sophisticated news experience to our increasingly global audience."
An in-app premium option at £2.49 a month offers advertising-free access to daily crosswords, content from the Guardian's archive and special extracts from Guardian books.
However, the publisher expects the ad-funded version, following the same model of The Guardian's "open journalism" website model, to be by far the most popular version.
Nick Hewat, commercial director at Guardian News & Media, told Media Week: "As people's habits change, both news organisations and advertisers need to adapt and meet our audiences where they are. The new app is beautifully designed and will provide ad options that you would expect from a world class digital offering."

The Guardian's app follows the launch of News UK's first sports-specific app for The Times and Sunday Times yesterday, with both in time for next month's Fifa World Cup.