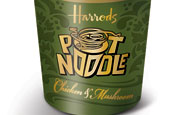 The noodle snack is launching a limited edition Harrods-branded Chicken and Mushroom variant which will retail for £29.95. All proceeds will go to Action Against Hunger.
The luxury 'Poulet et Champignon' dining experience will be presented in a limited-edition case with a fork and table linen. Harrods is also recommending that filtered mineral water is used to 'rehydrate the dish'.
Pot Noodle is made in the Welsh town of Crumlin in South Wales where 155 million pots a year are produced. Last year the brand was voted the most hated brand in Marketing magazine and Joshua G2's Brand We Love and Hate survey.
The unlikely partnership is part of a range of unique and limited edition products which have been created as part of a 'Design Icon' initiative at the store which has been launched to celebrate innovation in design.