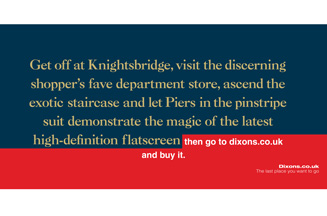 Dixons.co.uk launched a campaign last week using the strapline 'dixons.co.uk - the last place you want to go'.
One ad refers to ascending 'the exotic staircase' in a Knightsbridge department store to 'let Piers in the pinstripe suit demonstrate the... latest high-definition flatscreen then go to dixons.co.uk and buy it'.
Niall O'Keeffe, UK marketing director at Dixons' owner, DSGi, said: 'This campaign says, feel free to do your research, but make Dixons.co.uk your last port of call, as here you will find all your technology needs, at low prices.'
A spokeswoman for Harrods said its legal representatives had written to Dixons.co.uk 'demanding that it substantiates the claims'.
'Despite the attempt at a sneer, they are unwittingly right about one thing, which is our service,' she added.
'The ad and [O'Keeffe's] quotes together give the implication that Harrods is overpriced,' said a senior defamation law partner. Other ads targeted Selfridges and John Lewis.