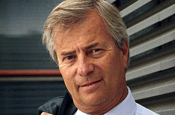 The company's operating income was €91.75 million euros, compared to €75 million in the first six months of 2007.

The company said its net income per share was up by 40 per cent on last year.

A spokesman for the company said: "All the group's main businesses have enjoyed strong growth.

"Putting digital at the core of all our agencies and businesses means we can provide our clients with global communication advertising solutions and a choice of media."

Group revenue of €755 million for the first half 2008 was up by 3.6 per cent over 2007.

The spokesman said this was due to strong business growth in key markets, reflecting new account wins and increased market share.

However, the company said it had been hit by the strong euro, with a negative exchange rate impact of €46 million against the US dollar and sterling, compared to the first half of 2007.

Earlier this month, the group announced record organic growth of eight per cent for the first half of 2008, thanks to a strong performance in Southern Europe and North America.