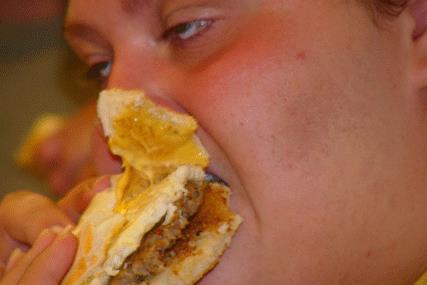 Nice has issued new guidance focusing on food production and its influence on the nation's diet, with a view to reducing the prevalence of cardiovascular disease.
The NHS's advisory body claims that cutting the average person's consumption of salt from eight grams a day to three, would save up to 20,000 lives a year, while reducing fat would save even more.

Food manufacturers, Nice says, should cut the amount of saturated fat in food and eliminate all trans fats (toxic and artificial fats), which are added to food to prolong its shelf life.
It is also calling for more stringent rules on advertising foods high in fat, salt and sugar (HFSS foods), including a ban on TV ads for such foods before 9pm.
Current Ofcom rules mean that food deemed to be high in fat, salt and sugar, should not be advertised during programmes that are aimed at, or would appeal to, under-16's.
Nice's guidelines are non-binding, but call on the government and food industry to take stringent action to reduce premature deaths and help citizens live healthier lives.

Further recommendations include:

• Establishing the Food Standard Agency's front-of-pack traffic light labelling system as the national standard for food and drink products in England, and considering using legislation to ensure universal implementation.
• Encouraging local planning authorities to restrict planning permission for take-aways and other food retails outlets in specific areas.

Nice said that government ministers should consider introducing legislation if action is not taken by food and drink manufacturers.

Professor Simon Capewell, vice-chair of the guidance group and public health physician said: "There is an urgent need for this guidance. Around 90% of premature cardiovascular disease is avoidable, because it's due to well known factors that we can change, particularly diet and smoking."

He added: "High levels of salt can cause high blood pressure, leading to stroke and coronary disease. There has been encouraging progress in reducing the level of salt and saturated fats in our diets over the last 10 years, but the rate of change needs to be speeded up urgently."
But the food and drink industry is likely to question Nice's recommendations, as it believes it is at the forefront of disclosing nutritional information and supplying healthier options to consumers.
In a report produced last year by the Advertising Standards Association (ASA), the advertising watchdog found that only seven out of the 1,100 food and soft drink ads it surveyed were in breach of advertising codes. It also found that none of the ads breached the children's food advertising rules.
Earlier this month, Nice said the government should consider a complete ban on alcohol advertising, in order to stop underage and binge drinking.