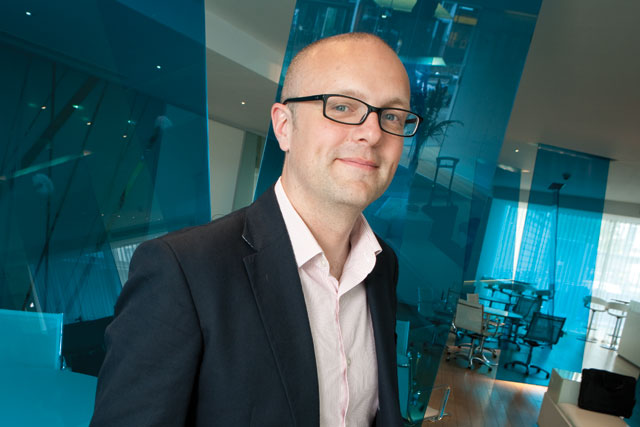 Last week, Sean Healy took up his new role as the global communications planning director at ZenithOptimedia. The week before, he attended a Performics global conference in Paris, where Maurice Levy was in attendance. "I was like the new boy shaking hands with Maurice - he wouldn't have known who the hell I was," he says jovially.
Healy has worked in media ever since he left school at 16, rocked up to an interview at a full-service agency in his hometown of Leeds wearing his dad's tie and got offered a job as a media assistant working on the Lada car account.
After university, a stint in the media department at JWT and then Universal McCann equipped Healy for a move to MediaCom in 2000. There, he worked his way up from a strategist to head of planning. But after more than a decade at MediaCom, Healy quit in March last year to take up the role of managing director at Walker Media.
Yet it was a short-lived foray into the world of general management. Although Healy won't talk about it, it's clear that the job wasn't for him, and vice-versa. So, in May, it was revealed that Healy would be returning to his planning roots when news broke that he was to succeed David Benson as ZenithOptimedia's planning lead for the network (Benson has since moved to Google).
Healy says he was attracted to ZenithOptimedia's culture, which is somehow both "relaxed and efficient". He says one of his main responsibilities is "to start building a real sense of community among comms planners globally" and he will also champion the network's relaunched positioning, dubbed "Live ROI" - a real-time update on its decade-long branding as the "ROI agency".
Karen Blackett, the chief executive of MediaCom and a former colleague of Healy's, describes him as "a unique mix of super-intelligent and down to earth, with an infectious passion about what he does". Here, Healy answers some big questions on the challenges of planning in 2012.
- Has planning taken a back seat in our ever-more procurement-driven media landscape?
I don't believe procurement has reduced the importance of planning. Even if pricing has played a greater role in pitch wins than it was doing pre-2008, planning excellence is becoming even more crucial in maintaining a healthy relationship with one's current clients.
The questions we are being asked become ever-more strategic: how should I best deploy my data? What should my content strategy be? etc. Procurement isn't in the room when this profound stuff is being tackled. Therefore, anyone who underestimates the importance of planning is likely to end up facing a pitch led by the procurement people.
- How can planning cope when media these days is so bound to technology developments and different global markets are at different technological stages?
From a global planning perspective, the imperative is to test and learn in the most developed markets and then redeploy across the network. You could argue that different speeds of adoption are actually helpful in some cases, as the "bugs" in our approach get ironed out before technology becomes a strategic tool in every market. Of course, it means that planners in key hub markets need to master technology quickly in order to share best practice meaningfully.
- What are the challenges of data collection and usage when it comes to planning in 2012?
The game has changed as regards the role of data in planning. It is no longer enough to talk a good game in white papers about the future. Media networks, and thus their planning teams, need to have invested in a whole range of storage, analytical kit and expertise in order to make real-time, meaningful use of data a reality. Without these resources, you can't measure campaign effectiveness, optimise live opportunities or do a proper job in the consumer insight phase of a planning process.
- How has planning changed in the past five years?
Five years ago, we had more time to spend crafting a strategic platform with fewer sources of insight and fewer means of activating our plan. Today, we are working infinitely more quickly with an oversupply of data and masses of choice as to how we deploy our resources. The danger is that we get caught up in the excitement of the melee and constant stream of innovation and forget the fundamental point that we are here to change people's behaviour. Planning is still about being a super-curious "people expert" regardless of what profusion of channels we have to work with.
- What do media agencies need to change about the way they go about planning?
I think media agencies need to be more ambitious in their approach to planning. The reality is that no other discipline can match our real-world focus on maximising effectiveness and the attendant expertise in analytics that we have developed over the past decade. This "science" is increasingly complemented by real creativity and the ability to develop powerful communications ideas that work in any channel. My gripe is that media agencies too often stay in their "media" comfort zone rather than turning this firepower to building bigger ideas and activities that join up the whole consumer journey.
THE LOWDOWN
Age: 42
Lives: Surbiton, London
Family: Wife and two girls, Olivia and Flora
Favourite business book: The New Marketing Manifesto by John Grant -
written more than a decade ago but still relevant today
Hobbies: Growing my own artichokes in the garden, running and watching
football (I support Leeds United)
Favourite tipple: Malt whisky
Music: Indie, electro and classical
Mantra: Work hard, be nice to people