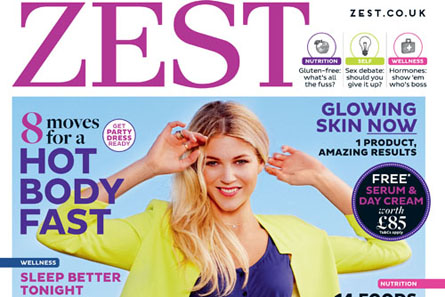 The last issue of the monthly title, its January 2014 edition, will be published on 5 December. In a statement Hearst Magazines UK said it would try to find new roles within the company for those staff impacted by the closure of the brand.
A spokeswoman for Hearst Magazines UK had not confirmed how many editorial staff work on the title or whether the closure would affect any commercial roles prior to publication.
A statement said that Zest's editor Mandie Gower and publisher Nadia Dawson had "shown outstanding dedication and loyalty to the title".
Zest launched in 1994 as a supplement with Cosmopolitan magazine, and as a stand-alone monthly title in 1996.
Its circulation has declined in line with market trends, dropping nearly 40,000 copies in the last five years to fall from 104,636 in the first half of 2008 to 64,956 in the first half of 2013, according to the Audit Bureau of Circulations.
The decision to close the brand was made after a business review at Hearst Magazines UK portfolio, to ensure efficient operations, the statement said.
Anna Jones, the chief operating officer for Hearst Magazines UK, said: "Closing a magazine is never an easy decision, but we have made this move because we believe it is the best way to ensure Hearst Magazines UK remains robust and adaptable for the future and more responsive to changing consumer and advertiser needs."
She added: "We are taking this decisive action now so that we have time to put resources into those areas that will really make the difference in the coming year."
Hearst will now concentrate on its other health and fitness titles: Women's Health, Men's Health, Runner's World, Triathlete's World, NetDoctor and Cosmo Body.
It plans to increase the frequency of Women's Health from bi-monthly to 10 issues a year, and biannual Cosmo Body to three issues a year.
Follow @LouiseRidley