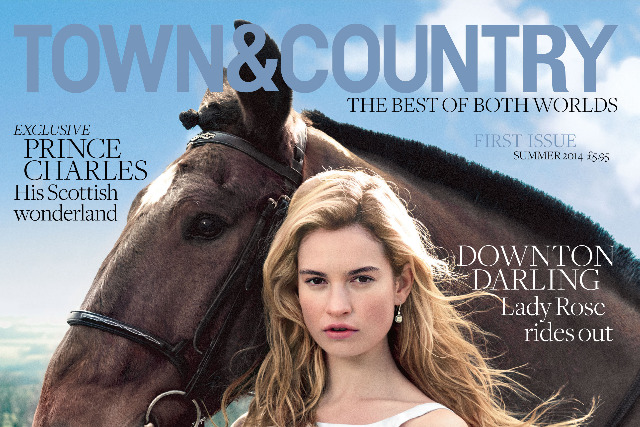 The debut June issue of the magazine hits UK newsstands tomorrow with the promise of providing "an insider's view of high society, high fashion and high culture".
The Hearst magazine has been a bastion of US publishing since 1846, and it is hoped it can replicate its success this side of the Atlantic as the luxury sector continues to outpace other print markets.
Meribeth Parker, group publishing director of Town & Country as well as Harper's Bazaar and Elle, told Media Week: "2013 was our strongest year to date for our luxury brands, with double-digit growth in ad revenues.
"Tomorrow's launch of Town & Country continues to expand our strong luxury portfolio. It is an extraordinary brand that will provide our partners with all the benefits of our unrivalled scale and reach to affluent, discerning readers."
Hearst is banking on Town & Country offering new opportunities for advertisers across fashion, beauty, jewellery, watches and accessories, as well as opening up categories such as property, cars, personal finance, country and sporting pursuits, education and wealth management.
The launch issue has 62 pages of advertising, including brands Dior, Estée Lauder, Louis Vuitton, Rolex and Tiffany.
The British edition will be produced by the team behind Harper's Bazaar, led by editor-in-chief, Justine Picardie, but Parker said a recruitment process is underway to find new talent to work on the title.
Hearst plans for Town & Country to publish two editions in 2014 before becoming a quarterly publication in 2015.
The magazine will aim to reveal a broad cultural landscape, and promises to reflect the UK's "New Establishment" – from Stella McCartney to the Prince of Wales; Roman Abramovich to the Duke and Duchess of Cambridge.
Editor Picardie said: "British Town & Country will have a unique voice that is celebratory yet also original and authoritative. It will offer its readers an intelligent interpretation of the meaning and manners of modern society, with sophisticated design, brilliant writing, literary panache and memorable photography."
With a cover price of £5.95, Town & Country launches with an initial print run of 60,000 and will be supported by marketing activity within Hearst Magazines UK titles.