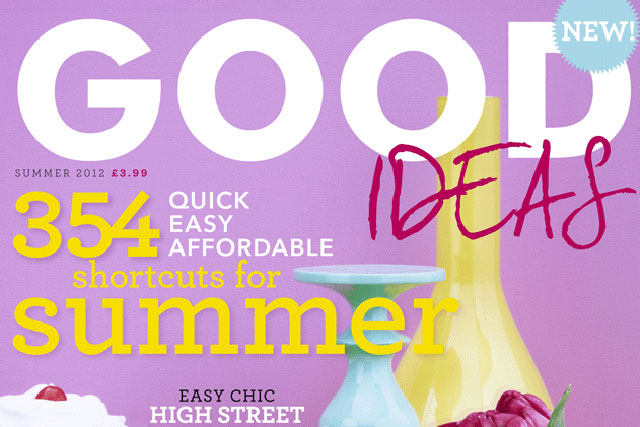 With a cover price of £3.99, the title is on sale today (11 April). It has been specifically designed for both print and digital format, and is produced by the same editorial and design team responsible for Good Housekeeping.
To make the magazine more tablet-friendly, Good Ideas has smaller articles, greater emphasis on visuals, smartphone-friendly typefaces and an interactive contents page, making it accessible for both the traditional newsstand and digital user.
Hearst has built Good Ideas around extensive research into the influences and consumer consumption of 35- to 50-year-old women.
The magazine consists of 164 pages including interviews with inspiring women, and expert beauty and health tips, as well as a "fresh approach" to fashion, food, homes and gardens, consumer issues and finance.
Advertisers in the first issue include Peugeot, Origins, L'Oréal and Clarins.
It has an initial print run of 150,000 copies and will be positioned on newsstands in the women's lifestyle sector, alongside titles such as Good Housekeeping, Red and Marie Claire.
Lindsay Nicholson, editor of Good Ideas, said: "We're delighted to launch Good Ideas and believe we've produced a great magazine that keeps a new audience of readers up to date and in control, balancing practical solutions with achievable inspiration."
Judith Secombe, UK group publishing director in Hearst's lifestyle group, said: "Designing Good Ideas to be as accessible digitally as in print is a natural next step for our business and provides an exciting platform for advertisers to engage with a new audience of women.
"We are committed to providing our readers with inspirational articles and trusted advice in innovative ways that fit seamlessly within their lives. This launch is further testament to us addressing all aspects of life for the new generation of modern, stylish, confident women."
The launch comes two months after that of Women's Health by Hearst-Rodale, Hearst's joint venture with US publisher Rodale.
Follow Nick Batten on Twitter @NickBatten2